Follow
Genre: Adventure, Drama, History
Distributor: 20th Century Fox
Episodes: 10
Duration: 45 minutes (per episode)
Vikings: Season 3 (DVD) – Series Review
Good: Fun facts, Political games, Story
Bad: Some characters could use a bit more attention
User Score
9.0
(2 votes)
Fearsome Norsemen also known as the Vikings have always made for interesting tales of battle, pillaging as well as raping many women during their rampages. Nonetheless, many historical manuscripts point out that they were indeed fearless fighters, they did not shy away from brutal tactics, but it seems they also had lots of strong women supporting their male counterparts, making some stories of rape and such a tad exaggerated. Throughout the first two seasons of Vikings we have seen Ragnar Lothbrok go from a mere farmer to king of the Vikings. As they have already been to England, it seems there are new places he wishes to visit in this third season.
After coming to terms with king Ecbert (Linus Roache), Ragnar Lothbrok (Travis Fimmel) and his followers, Floki (Gustaf Skarsgard), Lagertha (Katheryn Winnick), Rollo (Clive Standen), Bjorn (Alexander Ludwig), Athelstan (George Blagden) and many others revisit Wessex in order to found a small farming settlement. This settlement shall serve as a sign of peace between the northern warriors and the English populace, even though many of the English nobles disapprove of Ecbert's decision. Nonetheless, when the troupe of Vikings reaches the English shore, it becomes clear that there is a catch, namely Ecbert requires their help in order to gain dominance of a neighboring kingdom, to place his own puppet princess Kwenthrith (Amy Bailey) to rule over it. She is the rightful heir to the throne, but currently her uncle has usurped the throne, together with her younger brother who seems to be misguided rather than being an actual threat. Even though many of the Viking warriors are in doubt, they follow Ragnar's decision, whilst Lagertha will start the foundation of the farming colony.
Back in Kattegat, Ragnar's wife, Aslaug (Alyssa Sutherland) is watching the homestead, together with Siggy Haraldson (Jessalyn Gilsig) and Helga (Maude Hirst). Nonetheless, Aslaug is quite conflicted as it's clear that Ragnar does not truly love her and he is not fond of his mutilated son, Ivar 'the Boneless' either. When a wanderer, who the three women had premonitions about, comes to town and shows great interest in Aslaug, things become quite complicated for the lonely queen.
On top of Ragnar's conquest spree, this third season will also revolve around Athelstan and Floki's conflicts a lot. Even though the ex-priest-now-Viking still opts for a peaceful approach, it's Floki who can't cope with Athelstan gaining more attention from Ragnar. Floki is clearly fighting inner demons and comes to a decision on what must be done. Not only is the England arc again important for this season, but the Vikings will head to other places as well during this third season, namely Paris. Even though the timeframe isn't correct for the battle to come, on a historical point of view, the creators shifted an actual event in time to an earlier date to match the things going on in the series. This means that it's still 'realistic' even though the actual battle that will take place in this season is normally not within Ragnar's lifespan. Nonetheless, according to historical documents, Ragnar visited Paris, but in a more unprotected state than it is during the series. Overall a fun shift, in order to make things a tad more spectacular.
The flow in this season is steady but not too fast, making sure there is enough time for love relations, political games and plots behind Ragnar's back. This makes for a very fun pace, whilst there is still a lot going on over the course of the only ten episodes lasting third season.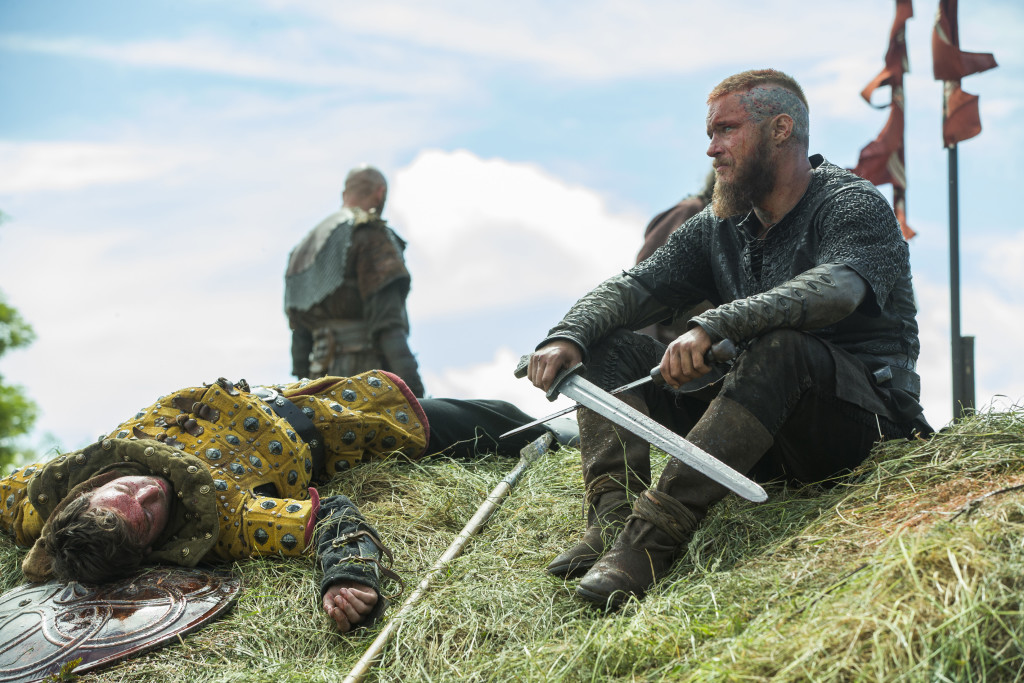 Just like the previous seasons, acting performances are superb, with Ragnar and the other main characters always stealing the show, with a few side-characters in the spotlight from time to time. That being said, it's also commendable that the actors do a great job in portraying foreign characters by the use of different languages or rather convincing accents, a feature that is not that common with many other actors.
The special features aren't that breathtaking, but they offer a fair amount of welcome information. For example, Athelstan's journal will offer small recaps of the season, whilst other features show what hides inside the mind of Ragnar and how the city of Paris was built and used for some of the grand scale battles in the series. Of course other typical items are present, such as deleted scenes and commentaries.
Conclusion
Vikings: Season 3 is yet another amazing chapter in the Vikings saga, which shows us that there are many grand battles to come. You'll dive into the mind of Ragnar Lothbrok once again, to see how his reign strengthens, even with many plotting against him. War, love, sex, it's all present in this third season.
Vikings: Season 3 (DVD) - Series Review

,