Follow
Genre: Anime, Drama, Fantasy, Slice of Life, Romance
Director: Makoto Shinkai
Distributor: TOHO
Duration: 114 minutes
Weathering With You (Tenki No Ko) – Movie Review
Good: Superb animation and exquisite music
Bad: Weird choice of transition
User Score
8.4
(8 votes)
In 2016, Your Name (Kimi No Na Wa) was released and ended up becoming one of the most popular anime movies ever. Makoto Shinkai, the director of Your Name, has quite the list of incredible movies to his name and recently he made another one. Weathering With You or "Tenki No Ko" is his newest movie to hit the theaters. The movie takes you along on a secret story where a boy meets a girl that can control the weather.
Weathering With You start off with a narration from the main character Hodaka Morishima (Kotarou Daigo) about the secret only Hodaka and her know about. With 'her', Hodaka means Hina Amano (Nana Mori) who discovers a ray of light in a rainstorm. Curious about this single ray of sunlight, she tracks it down. It appears it is shining down on a shrine at the top of an abandoned building. Taking it as a sign, Hina steps up to the shrine praying with all her heart. At that point, time seems to stop and the rain starts to swirl around her and suddenly she is flying, or better said falling from the sky. She sees an amazing sight of giant clouds with a blue sky and even what looks like fishes. It ends with her thinking it was just a dream. After that foreshadowing, we get to see Hodaka, who is on a ship/ferry traveling to Tokyo.
On the ship he meets Keisuke Suga (Shun Oguri) who rescues him from nearly falling off the ship. After they arrive in Tokyo Keisuke gives Hodaka his business card, saying that he can always call him. Hodaka at first didn't even want to think about calling him, since he saw Keisuke as a charlatan. However, after he ends up living on the streets without food, he does decide to give in and ask for a job. What made Hodaka make that decision was Hina, who gave him a hamburger for free, even though at that point they had never met before. It made him realize just how hungry and miserable he was. After joining Keisuke's firm, Hodaka finds out they write about the supernatural. Keisuke makes Hodaka do the basic annoying chores. Sometimes Natsumi (Tsubasa Honda), who is Keisuke's assistant, does take Hodaka along to interviews for articles.
After a while Hodaka happens to see Hina again, he misunderstands the situation she's in and tries to rescue her. In the end, they both end up running away, and even though Hina got mad she was moved by him "saving" her. So, to reward him, she takes Hodaka to see the shrine on top of the abandoned building. As the rain, that has been going on for a long time in Tokyo pours down, Hina tells Hodaka, "look it'll clear up now". With disbelief, he looks around at the rain, until he looks back at her and sees the first ray of light fall on her face. She was a sunshine girl, which was one of the supernatural topics they were writing about for Keisuke's firm. While getting used to the idea of something so unbelievable actually existing, he thought of the perfect plan. Hina needed money to take care of herself and her brother Nagi (Sakura Kiryuu). Since it had been raining for so long, many people wished for the sun and Hina could provide that. So, they started a page where people could pay to get some sunshine for their events. Hina ended up being so successful that she got known as the 100% sunshine girl. While Hodaka, Nagi and Hina were running the sunshine business, Natsumi and Keisuke continued investigating sunshine girls, and they found out it might not be all rosy.
The flow of the movie starts a little bit slower, introducing the characters one by one and giving a little bit of background to work with. However, it doesn't feel slow since a lot still seems to be happening. A lot of emotions already happen in the first part of the movie as Hodaka tries to find himself in the scary Tokyo. Different sides of Tokyo get shown while Hodaka is just trying to survive. Once Hodaka and Hina meet again, the movie starts picking up the pace but it never rushes to the finish line. One thing plays a huge role throughout the entire movie and that is the rain. Now you wouldn't think much of "just rain" but the way it gets casually shown in the movie gives it that extra feeling you would get on a rainy day.
The animation for the movie is also incredible, at times you get to see beautiful aerial views of Tokyo. There are quite a lot of shots taken from around the rainy Tokyo to just show how life goes on, even in the rain. The raindrops on windows and falling rain on the ground, really are nicely done. Between some scenes, there is a black transition that seems a little bit of a weird choice. The full-on hard silent black breaks the moment a little bit but this might have been the intent from the Director. The voice acting is remarkable as the movie is full of emotions. Because of the superb voice acting, the vocal jokes also got pulled off well, making you chuckle at their conversations.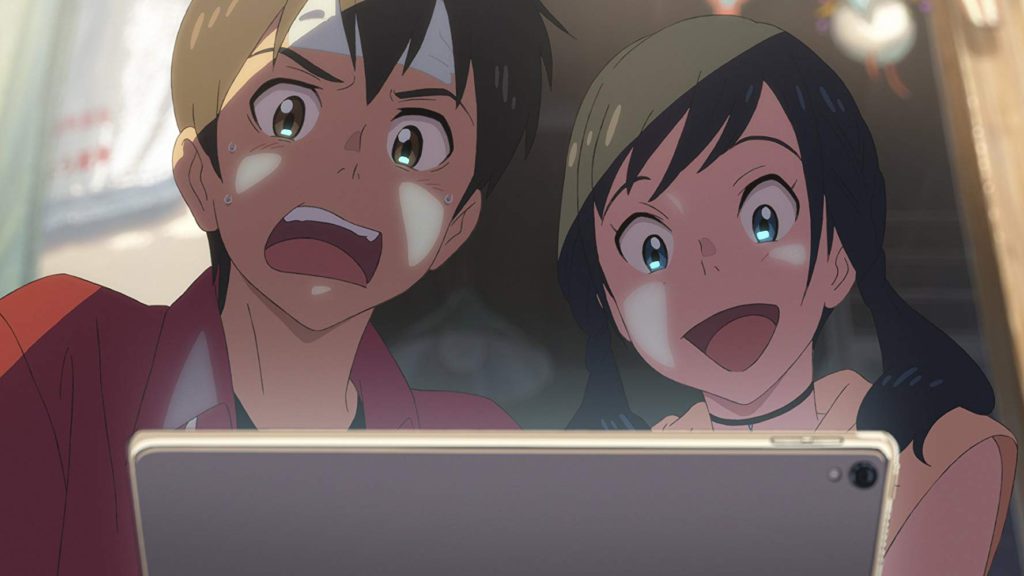 The music in Weathering With You is amazing. Just like previous Makoto Shinkai movies, the music helps bring the entire movie to another level. At perfect times emotional music chimes in making you feel the feels. Some scenes would have been completely different, and truth be told, maybe even a bit boring without the exquisite music. Overall, the music goes perfectly with the animations, creating one beautiful whole.
Conclusion
Weathering With You is a stunning movie with superb music that takes you on a journey of feelings. The story has a nice flow to it and even though it is a slice of life with just a drop of fantasy, it isn't boring at all. Weathering With You also has a bit of humor to lighten the mood between serious parts, making you even more invested in the characters. The movie will take you on a nice journey that will not disappoint, certainly if you like Makoto Shinkai's previous works. Weathering With You will for sure become a must-watch for any anime fan.
Weathering With You (Tenki No Ko) - Movie Review

,