Follow
Genre: Action-strategy
Developer: Ankaar Productions
Publisher: Ankaar Productions
Platform: Android
Tested on: Wiko Highway
Wrath of Obama – Review
Good: Fun concept
Bad: Would be better if there was more content
User Score
0
(0 votes)
There are some developers out there that like to make "silly" games. We all remember Goat Simulator, right? Well, Ankaar Productions has taken it a step further. After their previous game, Führer in L.A., they are now giving president Barack Obama a star role. Be ready to take up arms as Obama against some rivals in this crazy game.
Story
As you might have imagined, our star character is no one other than Mr. Barack Obama. It seems that something is amiss, since he has disappeared into thin air. His staff or even his beloved wife can't contact him. After a while, it seems that Obama (we have permission to address him this way) is fed up with Putin's behaviour (we have Putin's permission as well) and is on his way to Russia. Of course, Putin isn't all too happy and they clash! Well, to be  honest, the soldiers fight but okay, you get my point.
This isn't the end though, since another dodgy character will appear on the scene. It would have been nice if there was a bit more story available, although the setting of the game doesn't give that much space.
Graphics
Since this is a mobile game, you can't expect the greatest graphics. It has to be said, there are some really nice elements. To begin with, the backgrounds are quite special and the airplanes are detailed. You can definitely see the differences between them as the stages are done quite nicely. Sadly, the 'fighting' is something else. The environment is just like in the levels where you have to control a plane and although the characters in the foreground really stand out, the visual effects in these type of levels are more retro and seem like they're pasted on top of the sceneries. For some, this might not look good, but this just emphasizes the craziness of the game.
Sound
Although the game is quite small, the developers did their best to implement several soundtracks. They're set to each level, but this isn't something you will notice though. The mood of the music is overall a bit pumped and makes you want to win against your enemies.
There are some sound effects as well, especially during the levels. You will hear guns firing, soldiers dying and explosions everywhere. The quality of the sounds are a bit shallow though this doesn't matter that much. You're just happy that you can hear the opposition cripple and die. The same goes for your men of course, but you can just buy new ones!
This game wouldn't be complete if there weren't any voices implemented. It has to said, the voice of our good old Obama is really good. It feels genuine and actually quite real. The same can't be said about Putin's speech though. He mumbles the same words over and over again when starting a mission. The speech used during cutscenes is better though, since you can actually understand him better.
Gameplay
Wrath of Obama is a crazy action-filled strategy game where you need to take up arms against Putin and other enemies. There are two 'modes' in the game: one where you will have to deploy soldiers and kill everything in a sideways view and the other one is an overview where you need to defeat combat planes. This is the only thing that the game has to offer though. There are ten levels and these "modes" are shuffled.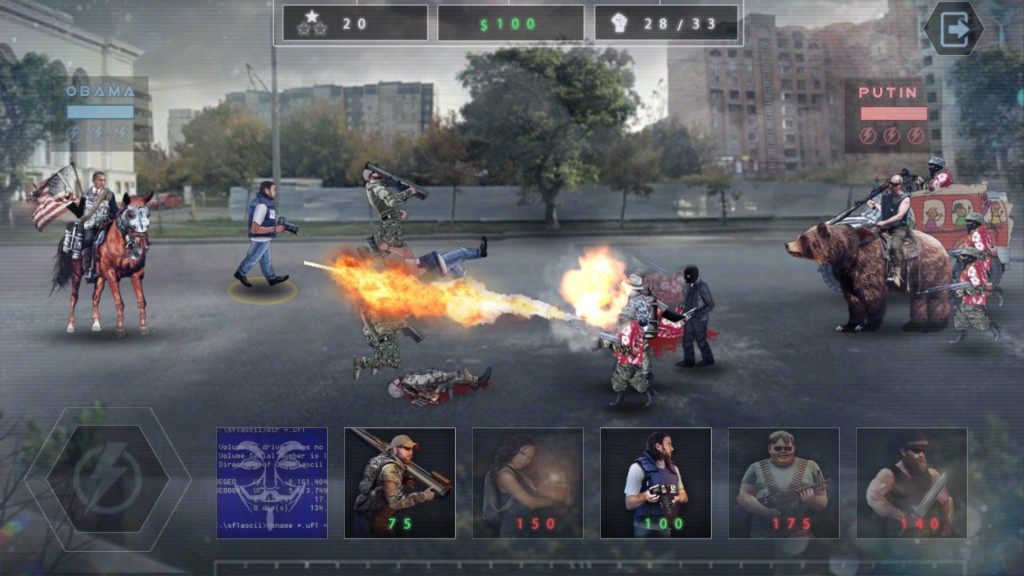 The first mode you encounter when you play is the aerial phase. As you might expect, you're in a plane and enemy forces will try to get you down. You only have limited actions you can do though. Next to moving, you can shoot, deploy decoy missiles and use a boost to dodge or gain health points. With these possibilities, you need to cross a certain distance without crashing.
As mentioned before, in the other mode you have to fight head on with your rival. This means that you need to send soldiers to fend of the attacks and hurt Putin, for instance. Every soldier type has its specialty and you will need to watch what the enemy forces are. At any rate, it is very important to get an income by deploying 'money banks' like journalists. If you have enough money, you can click on the icon of a soldier and they're ready to die for you! Isn't that handy?
Some battles seem to be quite random and you need a bit of luck at times. If you have enough money at that specific time, it could mean victory. After you completed a stage, you get ranked with stars. These don't have any purpose at all but are a fun extra and give some extra motivation to play the level again.
You can choose to play every level without a pause or you can choose to pick a level you like. These are the only things you can do and although Ankaar Productions did their best to make a crazy but fun game, it would have been better if there were a bit more possibilities. There are only ten levels and then the fun is over. You have to pay a small fee and it would have been nice if there were at least some other modes, like an 'endless' one or multiplayer. More levels would do the trick as well.
Conclusion
If you're looking for a fun game and you have some spare change to spend, this game might be something for you. The story is not that elaborate but the graphics and sound make up for that. It has to be said though, it would be nice if there were more modes or levels, since you will complete the game quite fast.