Follow
Genre: /
Developer: Acer
Publisher: Acer
Platform: /
ACER Predator Gaming Rolltop Backpack – Accessory Review
Good: Sturdy enough to last, multi-purpose practical design.
Bad: Even with the top rolled down, it's still a rather heavy, big piece of equipment
User Score
8.0
(2 votes)
Acer has been developing its Predator lines for quite a while now. Their motivation and business philosophy about gaming products is that to compete with others as they want to offer that bit extra to the market. Their last bag wasn't as much of a success in terms of quality which is a review you can find by clicking here. The bag we're going to look at in this review already looks quite different, yet keeps the Predator Gaming series alive with colors and logo. 
On the outside, the bag has some nice gray, black and red tones, where the black and red are typical for the Acer Predator series, mainly the Helios laptops. The gray has a nice, woven look which is a bit coherent with the carbon-lined tops of laptops. On the front, the Acer Predator logo sits proud yet slightly hidden in a background of black. Right below it, a reflector for nightly travels is added, automatically adding some safety when on a bike or at a Lan-Party so people don't trip over your valuables when working their way past your gaming or sleeping spot with their flashlights. The thing you will notice most in terms of size and the number of zippers on there (and the locations of those zippers) is that this bag looks exactly like a medium hiker's bag. Which it essentially is. The main difference is that you can roll the flexible top down to make it a bit smaller, intended to make the bag more versatile. When doing so, it's still rather heavy for a bag, yet more convenient in terms of storage space.
Touching the fabric gives an immediate sense of quality. It's sturdy, at some places a bit thicker, and everything clicks and zips smoothly like it should. On the front the clicking mechanisms are even made of metal, increasing the visual and sturdy sense of value. These are perfect for attaching and holding a sleeping bag to bring with you, pointing even more towards a weekend of gaming with friends. The bag has the following compartments and functions:
Going from the Acer Predator logo front to the back:
Not one, but two small compartments, on one side each. These come in handy for stuff such as paper tickets, change money, batteries, a bottle of deodorant etc.
On the right side, a bottle holder, on the left side, another small compartment.
After that, there is the main compartment, accessible from either the top zipper or one that's about half-way the bag for easily reachable storage. The main compartment has a big space with two built-in sleaves. One is rather tight, to keep a laptop or tablet inside, the other is a bit looser for the purpose of any excess accessories. There's also a built-in velcro "hanger" in the looser sleave, which you can easily hang a headset in or use to keep cables separate.
After the main compartment, there is a "second main compartment". which is simply a large space as big as the bag itself to carry mainly a big laptop or whatever you want to put in there.
The back is filled with cushions for comfort and airflow, keeping your back as cool as possible. There's also another holder band there that you could use for i.e. an attachment to a suitcase, but if you try to fit anything else in there it will take away some of your comforts due to your back resting against it.
Lastly, there is a space at the bottom. In most of these type of bags that compartment is used for an extra set of shoes or i.e. something like dirty laundry.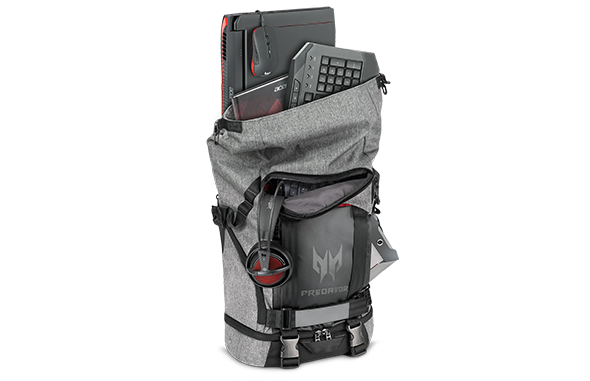 Even though the versatility of the backpack is great and the designers added some extras to help you on your way in an organized fashion, it essentially works just like any other hiker's backpack. The more you put inside, especially when all the spaces are filled up, the more comfort you will trade for it. The best way to use this backpack is basically when you literally add all your gaming gear, maybe one set of clothes and a possible sleeping bag on the outside. It sounds logical but: fill it up too much and all the compartments will feel cramped, not making it that accessible anymore.
Conclusion
The ACER Predator Gaming Rolltop Backpack is sturdy, durable, and good for many purposes. It's advertised as a gamer's backpack and that's also what it's used best as. A weekend of gaming and this bag comes along? Great! Using it for less intensive purposes is also good but the bag will be rather heavy. Using it for more and it's like any other hiker's bag: less comfortable the more you put inside. Especially for the 110$/110€+ pricetag it has at this moment, it's worth a careful consideration on all aspects. The looks, the versatility, the durability and the comfort.
ACER Predator Gaming Rolltop Backpack - Accessory Review

,