Acer Press event
User Score
0
(0 votes)
The Acer event was held in the heart of Brussels. The goal of Acer has shifted. No longer are they 'just another' technology producing company. They've gained a foothold and are slowly but surely taking control of the tablet market. They want to be number one by the end of 2014. Durability and quality go hand in hand in Acer's new designs.
Iconia Tab 10 
The Acer Iconia Tab 10 has an impressive 10,1-inch screen with FHD-resolution. The Iconia Tab is outfitted with Zero Air Gap and Ips-technology. The screen is made out of the next generation Corning Gorilla Glass, making it more damage and scratch resistant.
The Iconia Tab 10 was made with the multimedia experience in mind. The device is equipped with a micro HDMI port and supports a wireless screen, which makes it possible for the user to share content to family and friends on another bigger screen. The powerful MediaTek Quad Core Processor supports the 4.4 Android Kitkat.
Iconia One 8
Acer expands the Iconia One-series with a larger screen and more processing power. The Iconia One 8 is faster with its Intel® Atom™ Z3735G quad-core processor, it weighs in at 340 grams and has a thickness of 8,5mm. What's cool about the Iconia 8 is that it introduces two new movements in its Touch WakeApp. This gives you access to your favorite apps, directly from its sleeping mode. Double tapping will start your favorite app and by touching the screen with two fingers at the edge of the screen your favorite app will be opened and the screen will shift to the user.
The 8-inch screen harbors a resolution of 1280 x 800. It comes with the Zero Air Gap and IPS-technology. The screen is easy to clean because of the Anti-Fingerprint Coating Technology.
Acer Aspire V13
This notebook is lightweight, only 1,5 kg, has a powerful processor and a long battery life is completed with the Windows 8.1-experience. It's available in Steel Gray and Platinum White. The USB 3.0 port makes transferring files that much easier and faster. The Aspire V13 comes with AcerCloud, videos, fotos, music and files can be transfered easily and quickly between notebooks, tablets and smartphones.
The Acer Aspire V13 possesses 4th generation Intel® Core™-processors. This notebook has a maximum of 16GB system memory and an optional SSD-storage for quick access to all files and the possibility of running a lot of applications at once. A harddrive of 1TB can be used to store all the files the user might need. Lastly, because of the wireless 2×2 Multi-input Multi-output (MIMO) modular design, data will be processed twice as fast in comparison to traditional WiFi-solutions. Should you not want to go wireless, the Aspire V13 has a Gigabit LAN-port.
Acer Aspire E-serie
Available with a screen of 11, 13, 14, 15 en 17 inch in size. The Aver Aspire E-Series supports 6 core Windows 8 touchpad-movement. Some facts about the Acer Aspire E-series: a battery life of 7 hours, combined with Intel® Pentium®- or Celeron®-processors, 8GB system memory, Gigabit LAN-port and a max of 1TB hard drive.
Aspire R 13-series
What's thinner than 1 inch and weighs only 1,5kg The aspire R13. The screen has the possibility of turning over 180 degrees. Making it possible to use these devices in several ways. The hinges are pattented ZL Aero-hinges™ which keep the screen stable and secure for touch navigation. The U-Frame is cast, which strengthens the stiffness, but it fits perfectly with the sleek design of the notebook.The Aspire R13 Series have a full high-definition (FHD) (1920 x 1080) or super high-resolution(WQHD) (2560 x 1440) screen, making the display of videos, games, pictures and presentations that much more vivid. The built in light sensor makes sure that the clarity of the screen is adjusted automatically to improve the image.
The Aspire R 13-series can be combined with the Acer Active Pen to draw or get creative. 256 pressure levels and can be used as a mouse. The Acer Active Pen has been designed with palm of your hand detection. This makes sure that pressure of your hands on the screen is negated if you are working with the pen. The pen software is exclusive to Acer, called: Hover Acces, this is installed on all models.
A powerful Intel® Core ™ i5- of i7-processoren, with a maximum of 1TB Solid State drives in a RAID-0-configuration and a max of 8GB memory, make for a powerful machine.
Acer R 14-series
This series boasts a 360° rotatable double hingedesign, making it possible to assume 4 different modes, depending on your need of the device. Notebook, tablet, display and tent. The Aspire R 14 has a 14" HD (1366 x 768) screen, a selection of Intel®-processors among which Pentium®, Core™ i3-, i5- of i7-processors and a maximum of 12GB memory for powerful performance.
Aspire Switch 11-series
The new Aspire Switch 11-notebooks have a 11,6 inch screen which are coated with Corning Gorilla Glass 3, alongside anti-fingerprint coating to prevent greasy fingerprints. The Chiclit-keyboard makes typing easier and more comfortable. There are two different models in the series. The Aspire Switch SW5-171 is built for intensive users, it holds a Full HD 1080p screen and HD-webcam. The fast 4th generation Intel® Core™ i3 processor gives enough power for multitasking.
The Aspire Switch SW5-111 is made for everyday use and its screen has a resolution of 1366 x 768. The power is provided by Intel® Atom™ Z3745 quad-core processor and 2GB memory. Two USB 2.0, one normal and the other with a micro-port make connecting with peripherals and digital devices easy.
Both models are equipped with Microsoft Windows® 8.1, a micro-HDMI® so it can be connected to a bigger screen with just one cable and a micro SD.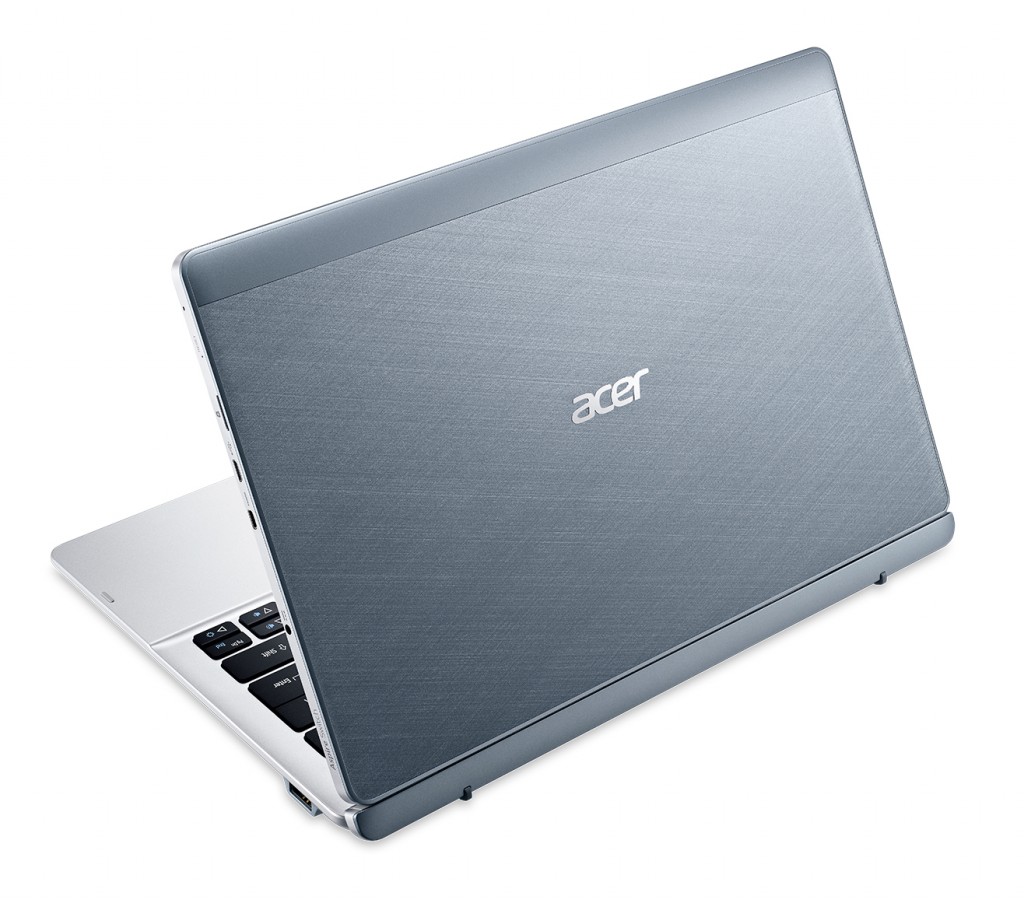 Aspire Switch 10-series
The new model from the Aspire Switch 10-series, de SW5-012, has a Full HD 1920 x 1200 or an HD 1280 x 800 10,1 inch screen with Corning Gorilla Glass 3 which protects the screen against scratches. 8,9mm in tabletmode and 20,2 with keyboarddock it is one of the slimmest 2-in-1 devices on the market.
Weighing in at 0,58 kg in tabletmode and 1,17 kg in combination with the keyboard, it is a thin and lightweight design.
Liquid Z500
The Liquid Z500 surprises with a 5 inch HD screen with IPS-technology, which has a high contrast of 900:1. The 8 mp autofocuscamera with F2.0 shutter makes beautiful pictures even with dim lighting. Acer Bright Magic makes taking better pictures with bad lighting even easier as this feature strengthens the clarity and removes granulation of the picture. The Liquid Z500 is equipped with a 2MP front facing camera. The device is only 8,65mm thick and is available in two colours: Titanium Black and Sandy Silver.