Follow
Genre: /
Developer: Antec
Publisher: Antec
Platform: Bluetooth devices
Antec Mobile Products ISO (BXH-200NC) – Hardware Review
Good: Easy to use, comfortable, noise-cancelling/suppression
Bad: Scraping sounds are heard clearly when not listening to anything
User Score
10.0
(9 votes)
We've had our share of Bluetooth devices on the site so far but now we are able to offer you something new. Antec was so nice to deliver us the ISO from their mobile products series. The ISO is a pair of Bluetooth In-Ear Headphones that might be able to pack a big punch for such a small device.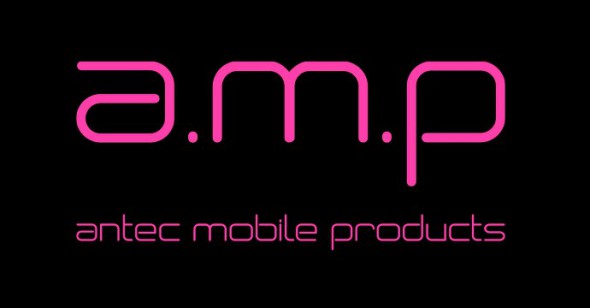 Design
Overall Antec presents us with a fairly unique design for the ISO model. The design uses the typical rubber in-ear pieces, which are getting more and more common these days. However they've added something extra to the equation, namely a disk to put in the outer ear. This disk serves as an extra piece to block noise from your surroundings.
We were able to test the red and black device, which is a great combination of colors. The two colors mix well and add an extra touch of 'class'. The metallic red color on the back of the earplugs adds a feeling of sturdiness and the control mechanism is slick and elegant.
Comfort
Whilst the disk may look weird at first, it actually proves to be quite comfortable. When the in-ear piece is in place, you will have to twist the disk a bit to find the right angle to fit in the outer ear. This setup proves to be really comfortable, seeing you'll hardly feel the disk is there. If the original set of rubbers does not prove to be all too comfortable, the ISO comes with two extra pairs, which are a different size.
The in-ear piece also makes sure a lot of noise is blocked and the disk filters even more. When in busy places this causes you to not having to crank up the volume each time there's a bit of noise. That being said, when you're not playing music, you can hear the sound the cables make very loudly. The scraping noises are amplified because of the 'seal' the ear plugs create in your ears. Luckily, if you start music again, at a decent volume, this noise is quickly overpowered.
You'll be able to attach the ISO to a piece of clothing with the sturdy clip on its backside. The clip itself is quite long, which will make sure it grips tightly and won't fall off easily. Of course, seeing it's a Bluetooth device, the best thing is to attach the ISO to your collar, seeing the cable that goes out from the device is short. This short cable is also great comfort wise, seeing you won't get stuck behind your cable all the time.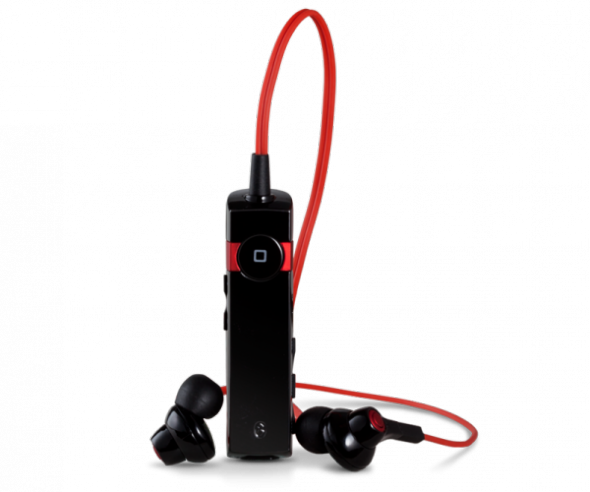 Specs
In-ear noise suppression
Built-in microphone and controls
Place and pick up calls
Compact form factor
dBs1
+- 8 hours battery time
Overview
As mentioned before, the rubber part that goes in your ear blocks a lot of outside noise, together with the disk that goes in your outer ear. This will make it easier to enjoy music or to pick up/place calls. You will be able to hear your counterpart quite clearly thanks to the noise suppression.
The built-in microphone will point itself out quite nicely. The sounds of your environment will also be filtered (for the most part) which ensures that you can talk to who's on the other side, easily as well. (No more random yelling on the bus. Huzzah)
Overall the control mechanism is quite easy to use. You'll have a multifunctional button (MFB), volume controls, next and previous song buttons, a pairing button and a small LED light that tells you whether the device is turned on, off or in pairing mode.
To turn on the device, you'll have to press the MFB button for roughly six seconds. When doing so, you'll see the blue LED and it will immediately pair to the device it had been paired with in the past. If you wish to pair it with another device, you'll have to press the pairing button first, which will cause the LED to flash.
Volume controls as well as skipping songs all speak for themselves and it works as it is supposed to work. The buttons are well placed and even when not looking you'll be able to notice the difference between both sets of buttons, seeing the skip buttons will have the pairing button in-between.
When listening to music, it's easy to say that the sound quality of Antec's ISO is very clear and the bass proves to be quite ok too. It's best to mess around with the bass settings a bit, depending on your music preferences, seeing the bass boost (on some devices) might prove to be a bit too much. This will only result in providing a poor sound quality instead of the otherwise great quality. Messing around with different equalizers might be great to find your preferred settings and then you'll notice this little device still packs quite a punch.
Battery life does indeed come close to the suggested 8 hours span, which is quite nice for such a small gadget. Recharging works by connecting the ISO to your computer. The ISO itself has a standard mini-USB plug at the bottom of the device and with this you'll still be able to charge it if you have a standard cable lying around.
Conclusion
Whilst Bluetooth devices will not always come at the cheapest price, Antec's ISO will provide you with a qualitative piece of hardware. Comfortable and easy-to-use may as well be its key features. Of course you'll also certainly enjoy the fairly long battery life as well as its slick design. A great thing to look up, if you get annoyed easily by cables that otherwise get in your way.
Antec Mobile Products ISO (BXH-200NC) - Hardware Review

,