Follow
Genre: Open world game, adventure game
Developer: Ubisoft
Publisher: Ubisoft
Platform: PS4, Xbox One, Switch
Tested on: Switch
Assassin's Creed: The Ezio Collection – Review
Good: Three highly enjoyable games that form a fantastic whole
Bad: Brotherhood and Revelations are locked behind scummy business practices
User Score
8.7
(3 votes)
Over the last few years, games from the late 2000s and early 2010s have been enjoying a renaissance on the Switch. Remasters and ports of titles from that era are steadily finding their way to Nintendo's hybrid console. The latest arrival of classic titles to make its highly anticipated appearance on the platform is Ubisoft's Assassin's Creed: The Ezio Collection, which launched on PS4 and Xbox One back in 2016. Comprising three full games in the form of Assassin's Creed II, Assassin's Creed: Brotherhood, and Assassin's Creed: Revelations, alongside two videos, Assassin's Creed: Lineage and Assassin's Creed Embers, The Ezio Collection is certainly a sizable offering but of course quality is more important than quantity. Are we looking at a Bioshock-style triumph or is it a disaster of GTA–like proportions?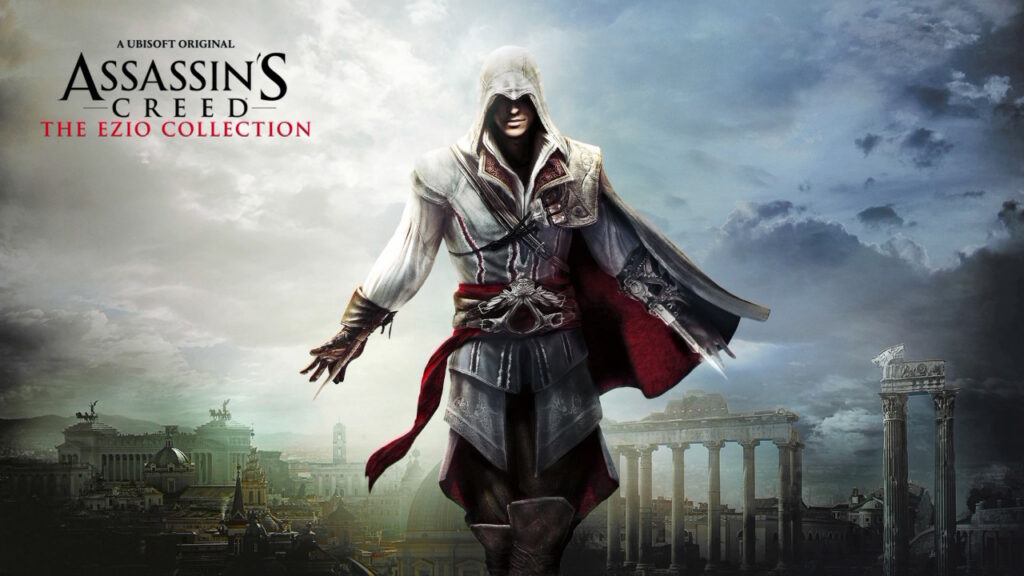 Story
Spanning three games and two short films, The Ezio Collection tells the tale of perhaps the two most memorable characters in the entire Assassin's Creed franchise: the legendary assassin Ezio Auditore and his modern-day descendant Desmond Miles. Both men find themselves at the center of a centuries-old conflict between the Assassins and the Templars. Through the use of so-called Animus technology, Desmond is able to relive the memories of his ancestor Ezio, in Italy of the 16th century. This is the key to dealing with the Templars, as it allows Desmond's team to track down the artifacts required to stop a plan that is being set in motion at the start of AC II. The three games all connect to one another, forming a complete story with the two films, Lineage and Ember as bookends. Lineage doesn't put Ezio himself front and center but dives into how the Auditore family is connected to the Assassins, and Embers shows what happens when an older Ezio is approached by the Assassins again after having retired to the countryside.
Graphics
There are multiple factors to consider when it comes to The Ezio Collection's visuals: you're looking at a six-year-old remaster of a decade-old trilogy of games, brought to a console that isn't exactly considered a visual powerhouse. Keeping those things in mind, the trilogy's visuals are surprisingly impressive. There are a couple of issues here and there, of course, such as relatively poor draw distance, pop-ins and flickering. However, most of these would have been present in the original versions of these games, and as such, they didn't bother us as much as they would have in a modern release. There did appear to be an issue with Lineage though, as there was something off with the colors. It looks like the contrast was cranked up for the video, resulting in a video with unnatural coloring. For some reason, you're also not able to pause, rewind or fast forward either video. We felt like Ubisoft really dropped the ball on these videos. Given that Lineage is freely and legitimately available on YouTube, we suggest watching it over there rather than the version included here. Embers is a bit more difficult to find online, so its inclusion feels more warranted.
Sound
Assassin's Creed's soundscape is an incredibly important factor in bringing the cities that the games are set in to life. As you walk through the cities that Ezio visits on his journeys, you'll hear the sounds of NPCs everywhere, accurately reflecting the hustle and bustle of everyday life. Likewise, the main voice cast does a fantastic job bringing their characters to life, injecting plenty of emotion in their performances. The cinematic music adds an air of drama to the on-screen events and the ambient sound effects are the icing on top of an auditory cake. This is a title that really comes into its own when playing with headphones as you simply walk through the streets of medieval Firenze, absorbing the sounds around you. Unfortunately, things do not bode so well for Lineage again, however. Here the music and sound effects drown out the voices, making for a less than ideal audiovisual experience.
Gameplay
All three games follow a similar gameplay template, with only relatively minor additions as the series progresses, such as the recruitment system introduced in Brotherhood, which isn't present in AC II. The three games are quasi-open-world adventure titles, mostly set in historical cities. Depending on which chapter they're playing, players either take control of Ezio or, to a lesser extent, Desmond as they take on objective-based missions. The key elements that the Assassin's Creed franchise is known for are present here of course, from the parkour-styled free-running across rooftops to using stealth to get close to your target. Back when these games were originally released, they were highly praised, and rightfully so. Of course, 2011, which was when Revelations debuted, is a long time ago and the series has evolved since, adding more gameplay depth and new features. As such, the games feel slightly dated compared to more recent open-world titles, not just within the franchise, but all in all, there is still plenty of meat on the bones of the collection should you decide to (re)visit Ezio's story.
If you're not used to Assassin's Creed's parkour gameplay, then it will take some time and effort to familiarise yourself with the controls. While The Ezio Collection utilizes a fairly simple control scheme, the button placement does feel awkward occasionally, simply because it differs so much from the more conventional button placement seen in titles like Revelations, contemporary title Skyrim, or the more recent Ys IX which features similar parkour-like gameplay. We would've loved an option to remap the buttons, but this wasn't present in the menu. Combat is simple enough to get the hang of, but we did find ourselves getting "stuck" on a ledge occasionally simply because we couldn't figure out the optimal ways to climb the wall of a church, for example. Once this mechanic 'clicks', running and climbing around as Ezio becomes a breeze.
There is a distinct sense of progress between the three games, which makes sense from a story perspective as Ezio grows from rookie into master assassin. This does mean that if you're a returning AC veteran, finding your bearings can be slightly awkward when starting over in AC II as you simply haven't unlocked specific fighting skills yet, making Ezio's prowess feel limited. This isn't the case in Brotherhood or Revelations, where Ezio starts out at a distinctly higher level of skill, highlighting the importance of playing through these games in order rather than simply jumping in and out of them at will as you'll follow Ezio on his journey and witness him unfold his abilities.
Our biggest issues with The Ezio Collection have less to do with the games themselves, and more with some of the business practices behind the way the games were brought to the Switch. Although the collection is technically available on a game cart, you'll find that picking up a copy will only provide you with a physical copy of AC II, and one-time-use download codes for the remaining content. Not only do these downloads take up a whopping 30 GB on your memory card -which is about the same size as The Witcher 3 on Switch- but it also means that the value of any secondhand copies instantly diminishes. It gets worse too: Revelations and Brotherhood are accessed through an in-game menu rather than as separate downloads, so if you decide to sell or lend someone your physical AC II cart, then the other games become inaccessible as well. While we're happy to see that The Ezio Collection isn't a cloud title at least, this still feels pretty scummy. If you opt to go all digital on the collection, you'll need at least 38 GB free, so prepare to shell out for a bigger memory card.
Scummy business practices aside, we'd say you're getting a decent amount of bang for your buck here in terms of hours of enjoyment. If you break the collection down, you're looking at roughly €15 per game here, with an additional €5 for the video content. You could do far worse on the Switch. The PS4 version, which was released back in 2016, still costs the same on the PSN Store as this newly released port. Given that the Switch version comes with the added advantage that you're able to take Ezio with you on your daily commute, we'd actually recommend picking it up on Nintendo's hybrid handheld if you haven't done so on one of the other platforms it's available on.
Conclusion
While the gameplay experience feels slightly dated and relatively simplistic compared to more recent open-world titles, we still feel like The Ezio Collection has aged like fine wine. The epic storyline, gripping characters, and fantastic worldbuilding make for a trilogy of games that overcome any rough edges and instead deliver classic Assassin's Creed gameplay you'll find yourself wanting to return to over and over again. If you haven't played through Ezio's story, then we highly recommend picking this collection up, and if you're already familiar with these games, then you already know how much they're worth revisiting.
Assassin's Creed: The Ezio Collection - Review

,