Follow
Genre: Shooter, RPG
Developer: Gearbox Software
Publisher: 2K Games
Platforms: Xbox One, PS4, PC, Google Stadia
Tested on: PS4
Borderlands 3 – Review
Good: Gives more of what Borderlands 2 gave but finetuned
Bad: Is it too much of the same? The story is not as strong.
User Score
8.0
(4 votes)
Listen up meat wagon; the father of wasteland weapon-generating shooters is back and it's been a while. The first part got released as early as 2009, and the second only followed up in 2012. Granted, some DLC got released over time after this, and even a PS VR version early on in 2019. There was also the pre-sequel, but it was generally criticized for failing to deliver on high expectations. But forget all that. It's September 2019, and Borderlands 3 is out baby! Yeah! 
Story
The beginning of Borderlands 3 is rather meager and feels like a repeat of the way previous Borderlands games start. You are a Vault Hunter, you stop in the wasteland by riding a bus, there are bandits, you are looking for the loot under the guidance of Lilith the Firehawk Siren. Bla bla bla. Two new bad guys, named the twins or the twin gods, make their appearance, and they are both sirens as well. It's a lot like the old Borderlands, even though the villains have been replaced by others. Nothing you haven't heard before and it takes a bit before the story starts to twist and turn and the "real" story starts. On purpose? Perhaps. But it feels awfully familiar in many ways. However, there's also instantly a noticeable difference at the start.
The game feels like it's holding your hand way more than the original, while still being recognizable in more than one way during some period of time. Yes, familiar characters and enemies will be thrown at you with the same old Borderlands humor without a second thought, but the way the story is being told and properly charted is different. There's a bit more of a forced storyline when it comes to the main story, making the game more of a worthy singleplayer game. This is supported by the very few side quests early on, compared to plenty of quests in other games. Also, no more endless walking because you quickly get access to vehicles, and the questing distances and areas are generally way more doable compared to the prequels.
It's clear that comments and critique of previous installments have been taken to heart and have been blended into Borderlands 3, and the character you play with actually has more lines to say, making it feel like more of a real character with some depth and background as well. Oh, and the story takes off to new places eventually, so don't worry too much about that.
Graphics
Of course, Borderlands as a whole got known for its experimental style in general. A style where models got cel-shaded skins that visually made it a game that stood out of the crowd. This won't change in part three. It is, luckily, made in a higher resolution so you can properly enjoy the details that go into characters and weapons. There's also a downside to such visuals, which is that most in-game animations and lip-syncing with the purpose of storytelling didn't really improve at all and still looks a bit rusty. The running and fighting with enemies, however, did get a little overhaul and they move smoother while also having better (and different) moves that feel better in some ways.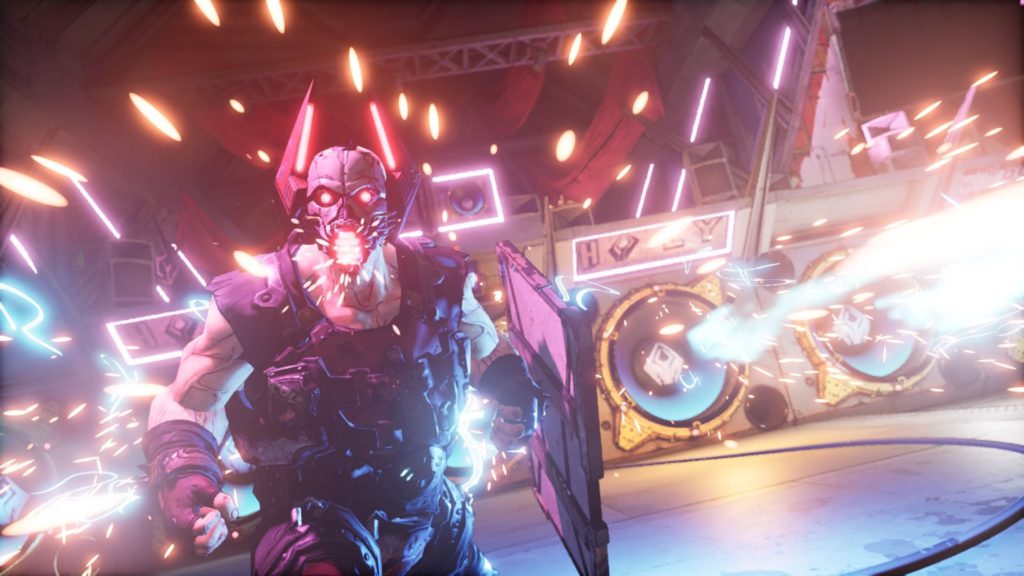 Sound
There's a lot of sound in Borderlands 3. Obviously, in a game as heavily relying on shooting things like this one, there's bound to be gunfire sounds and screaming. A lot of screaming especially. Enemies yelling weird phrases, again recognizable and new, such as "I'm gonna live forever!". The gunfire itself seems to fit as well, and we are yet to find something about it that feels, or sounds, off. And then there's the background music, almost disappearing in the chaos if you don't pay attention to it. But it's well-crafted, and it does its part in the way that it contributes to the scene unfolding. The familiar wasteland has some country/blues vibes going on, some battles are more action-heavy. At times it feels cinematic, sometimes it just fits the action. But it never really feels out of place.
Gameplay
The Borderlands concept is all about shooting all tons of different guns, looting stuff like an MMORPG, and just having a good time in general. If you know what to expect from Borderlands being a shooter with these elements and you want more of that, this is exactly what it will give you. An addicting combination of elements that earned its trademark, but with improvements as has been said before. The game doesn't want you to linger forever in the same areas anymore, it doesn't allow you to get bored for too long, yet it does add all types of fun little extras such as keychains for your weapons and even more cosmetics than before.
Besides the main story and some crazy side missions, it's a bit harder now to get epic weapons which makes them feel more special. The characters you can choose from feel a bit more like the same but perhaps slightly more balanced/strong, such as the beloved "gunner" class which can simply hop in a mech-type suit of armor when things get heated, to unleash hell with an assortment of weapons. Then there's a replacement for the siren who can use magical fists to hold enemies, a tactical class and somebody who actually uses a pet to combat enemies, which is new. One of the biggest problems Borderlands previously also had was that you could feel overwhelmed by a tough enemy and would simply die more than you could handle. In Borderlands 3, this seems to be partially solved by letting the enemies stand still and boasting victorious in front of you during your second wind (a chance when you are down to kill an enemy which, when successful, helps you back on your feet).
The game is less of a sandbox and derives ideas from games such as Destiny to visit other worlds/places at some point. The game also allows you to fast-travel at any point to previously visited important locations, adding up to the fact that you already have to travel less. It's just a fun game where you can level, shoot, choose out of three skill trees like you are used to, enhancing your style even further, et cetera. All your old pals, mechanics, and even slot machines are there, but in a new environment, and with new quests and stories. Borderlands 3 feels the same, yet refreshing, especially after a long time of not playing any of the other installments. Of course, since the dawn of the Epic Store, the internet has been flooded with kids who think they are heroic knights but literally nothing but self-entitled a-holes who bombard websites with low scores because of things not going their way. Just like kids will always think they have every right to do so. But ignore those very poor reviews, look for proper arguments, and enjoy Borderlands as it has returned and always presented itself.
Conclusion
Borderlands 3 is a great game for the simple fact that it took a bunch of lessons learned from the highly praised Borderlands 2, and tried to blend these improvements into part 3. Alright, the story might not be as strong as two, but it has its moments and especially during certain quests. The sound is good, a lot is the "same but improved", and it's simply what you could expect from the game that is known for a single formula of cell-shaded graphics, tons of weapons, and nonsensical fun.
Borderlands 3 - Review

,