Follow
Genre: Adventure
Written by: Claus
Illustrations: Claus
Coloring: Studio Leonardo
Publisher: Standaard Uitgeverij
De Rode Ridder #247 De Klauw – Comic Book Review
Good: Story, Plot twists, Mysteries
Bad: Too many unanswered questions
User Score
8.0
(2 votes)
It seems  as if Johan can't catch a break, after he was just able to rescue Melinda in #246 Dodendans, and get rid of the nasty kidnappers. Nonetheless, during this issue he will be on his own, as Merlin already went home to take care of other matters. We were surprised to see that this volume was also written by Claus, as he and Marc Legendre normally switch every time. Nonetheless, we grabbed our red suit of armor once again as things were about to get rowdy sooner than we expected.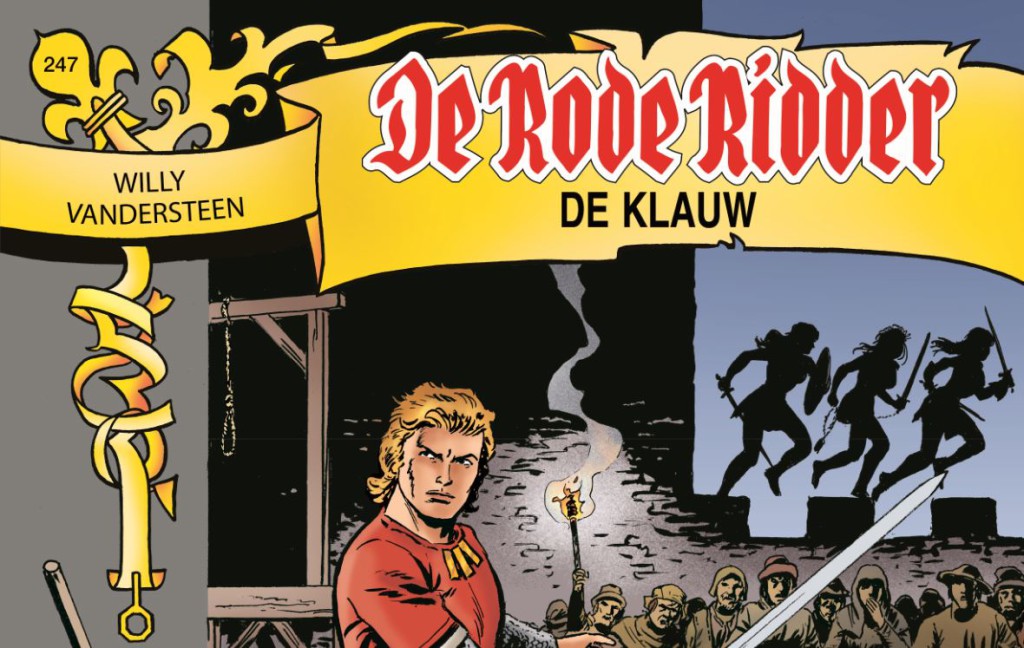 Even though Merlin offered Johan the chance to go home with him, through one of his wormholes, Johan decided to stay behind, as he felt there was still unfinished business. This gut feeling gets confirmed when he sees Guido and Gianni, two treasure hunters who already crossed Johan's path in the previous issue, getting dragged away by soldiers under the claim they had stolen from the count. When Johan confronts the guards who took the two men into custody, count Lagriffe immediately tells the valiant red knight to back off, or he will be punished as well. Johan understands he can't be of any help to the two gold diggers and thus he decides to witness the trial the next morning, incognito of course. That being said, Johan decides to head back to the local inn, to ask Melinda a bit more information about the seemingly evil count. He was going to head back to the inn anyway, as he feels there is more than meets the eye when it comes to the previously kidnapped Melinda.
When dawn breaks, Johan heads over to the trial and witnesses a trial where the defendants did not even get a chance to speak. Guido and Gianni were immediately thrown back into prison, with the outlook of an execution the next day. Johan decides to bust them out, but when a group of three Furies crosses his path, it seems that the count also attracted the attention of these powerful Amazonian fighters.
Just like the previous issue, this one feels like one big action scene, where combat and suspenseful situations are linked to one another. The length of this album feels just right, but a bit more information on certain aspects would have been helpful, as the issue calls forth many questions. Nonetheless, this volume feels as if another story will be linked to it, which only makes us wonder whether those questions will be answered.
The writing, as well as the illustrations were handled by Claus and he succeeds in delivering quality in both aspects. The story is suspenseful and the illustrations support the writing in every single picture, thus there is nothing to complain about.
Conclusion
De Rode Ridder #247 De Klauw proves to be a great issue, that can be linked to issues #244 and #246, forming one big succession of stories. This 'sequel' proves to be action packed and exciting until you flip the last page. It seems Johan still has many adventures to come.
De Rode Ridder #247 De Klauw - Comic Book Review

,