Follow
Genre: Action, Party, Fighting
Developer: Red Games Co.
Publisher: LEGO Group, Bandai Namco Entertainment, Lego Interactive
Platform: PC, PS4, PS5, Switch, Xbox One, Xbox Series X/S
Tested on: PS5
LEGO Brawls – Review
Good: Collecting mini-figs
Bad: No content, Just button mashing for the most part
User Score
1.0
(1 votes)
Over the years we have seen loads of LEGO games, and truth be told, most of them are extremely fun to play with friends and family. We have battled the evil Sith in LEGO Star Wars: The Skywalker Saga, we have had to escape the clutches of rampaging dinosaurs in LEGO Jurassic World, but we've also attended class in LEGO Harry Potter Collection. All of these games followed the same formula, where we explored different levels of well-known franchises while unlocking new characters, battling foes, and finding a treasure trove of collectibles. Now, we are doing things differently with LEGO Brawls, where we duke it out online against other players. Even though the concept of the game is quite fun, it eventually boiled down to doing the same thing over and over again.
Story
There is absolutely no story value to be found in LEGO Brawls. You'll just duke it out with a mini-fig of your choice in different themed arenas. You'll see different franchises such as Jurassic World or LEGO Ninjago pass the revue. We didn't mind the lack of story content, as it's all about the frantic brawling action.
Graphics
Graphically the game looks like any other LEGO game, albeit very limited when it comes to the overall environments. The game has a few different arenas in which you'll duke it out, but these are very small in size. That being said, the countless mini-fig combinations and the frantic action make up for the lack of different environments. We loved creating our own LEGO brawler, and we also loved seeing what characters we could actually unlock. This is also the driving point behind the game.
Sound
The sound design is okay. You'll get fairly upbeat background music during the matches, but these tunes are overshadowed by the many sound effects of all the special skills being used and players being whacked with weapons. There is no voice acting present in the game.
Gameplay
LEGO Brawls is an extremely simplistic online brawling game. You'll basically pick the mini-fig of your choice and you'll start battling other people, be it in a free-for-all format or in teams. You don't really have that much choice in the Brawl mode, as the other players and yourself will do a level vote. This vote will determine the mode and the level. In the beginning, you'll have only a handful of mini-figs at your disposal, but as you play more and more, you'll unlock new mini-figs, weapons, and power-ups. Overall, the game needs no lengthy tutorial and you'll be able to play in a matter of seconds after booting up the game.
The entire point of the game is to eventually just collect many different mini-figs. When you brawl, you can also choose a collection to start unlocking from different themed LEGO sets. This is a massive incentive to keep playing, but even so, after a few matches, you'll notice that the gameplay has absolutely no depth. Outside of the unlockables, you'll just be mashing buttons and grinding to unlock more and more items and characters. This, in combination with the horrid controls, just makes for a very bland experience after a while.
Other than the above-mentioned goals and content, there is absolutely nothing more to the game. You can, of course, also play locally with friends, but this is once again just the same content as described earlier. The game will very quickly struggle to keep your attention and this one only proves to be mildly entertaining in-between other games for a match or two. Matches only take around three minutes, and you can easily find other players online. We did, however, encounter a lot of players with a bad connection who tend to lag all over the place.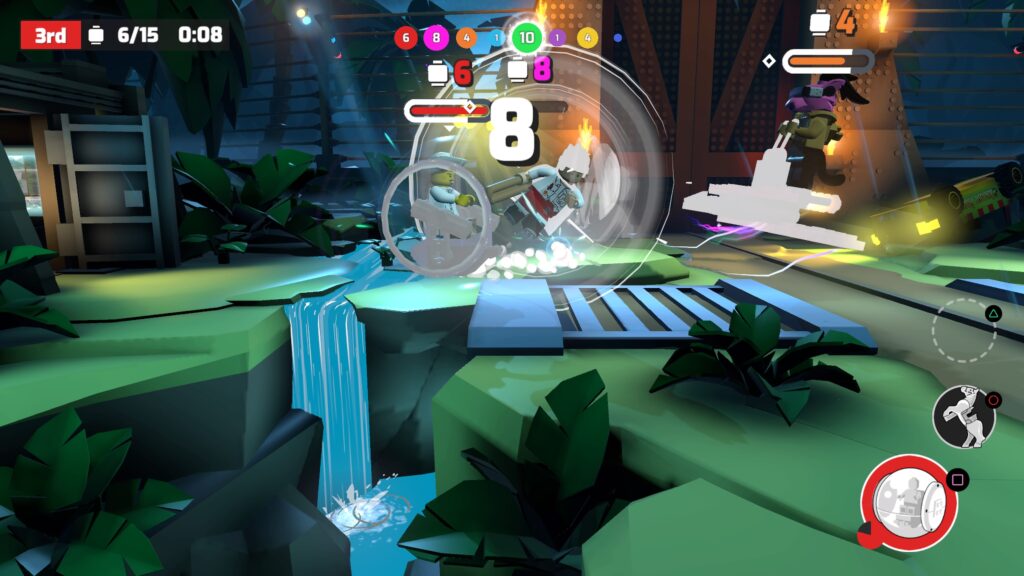 Conclusion
LEGO Brawls sounds fun on paper, and it is actually quite amusing to collect more and more mini-figs, but the actual gameplay is very much a letdown. The game consists of button-mashing your way to victory, and while you can employ a few tactics, ultimately it's just a barebones experience that is clearly intended to draw in a huge crowd thanks to the many aforementioned mini-figs. If the game was offered at about a tenth of its current asking price we would have been a lot more lenient, but asking forty euros for what is basically the quality of a free mobile game is way too much.
LEGO Brawls - Review

,