Follow
Genre: Adventure, Casual
Developer: ClockStone Software
Publisher: Thunderful Group, Thunderful Publishing
Platform: PC, PS4, PS5, Switch, Xbox One, Xbox Series X/S
Tested on: PC
LEGO Bricktales – Review
Good: Casual fun, Concept
Bad: Feels a bit too childish at times
User Score
0
(0 votes)
Over the years, we have seen many different LEGO games. We recently duked it out online in LEGO Brawls but we have also used the force in LEGO Star Wars: The Skywalker Saga and harnessed the power of dinosaurs in LEGO Jurassic World. Now, we embark on a different adventure, as we have to restore our grandpa's theme park to its once-glorious state. We were quite enamored by LEGO Bricktales' meditative gameplay and we'll explain why in the following review.
Story
LEGO Bricktales revolves around you visiting your grandpa, who is seemingly in a pickle. Your grandpa manages a theme park, but upon arrival, you notice it's in a very sorry state. You find your grandpa in his workshop and he is stuck with no way out. You help him, and before you know it, his old robot assistant appears out of thin air. Rusty, the small robot, has been traversing the galaxy and has picked up a few skills along the way. These skills will come in handy as your grandpa will have to repair his theme park to its original state if he wishes to keep it. He has a very limited time to fix things and without the help of others, it will be impossible. This extra help is not something that can be obtained by normal means, as the theme park can only be restored with the energy that comes from making people happy. To harvest this energy, you and Rusty set out to help a lot of different people with their problems.
The story is quite simple but it is charming nonetheless. That being said, outside of the few chuckles we got out of the dialogues, the plot is paper-thin. We didn't mind the latter, however, as the overall premise is just appealing. The story evolves as you expect, but the different environments and settings you'll find yourself in provide a welcome change of pace.
Graphics
Graphically LEGO Bricktales is a very 'cute' game. The tile consists solely of LEGO-built sceneries, and we just adored the different environments. You'll go through jungle areas and deserts to end up in medieval times. We see many iconic LEGO bricks being used in the game, and it's just extremely cool to see your creations end up in the world that surrounds you. The LEGO characters themselves move a bit more wooden-like than we see in other LEGO titles, but this was clearly a design choice. Thanks to this it will constantly give you the impression you're playing with very detailed LEGO pieces and characters.
Sound
We were quite surprised by the game's sound design. The game has a very cinematic soundtrack and we stopped what we were doing from time to time, simply to take in the game's music. The overall soundtrack had very relaxing vibes, which further enhanced the casual atmosphere of the game. The sound effects also click for the game. You'll hear LEGO pieces snap in place, and other sound effects are also decent. The game has no voice acting.
Gameplay
LEGO Bricktales is a fun and accessible adventure game with a lot of LEGO-building action and some minor puzzles. The game has no combat elements and is just a fun and casual experience through and through. In all honesty, there is actually not that much to tell when it comes to the overall gameplay. You just run around on different maps and try to help different characters. You help these characters by building them structures or items, and this will then progress the story. Your end goal is to restore your grandpa's theme park to its former glory, and this can only be done by using the energy that comes from making other people happy. It's a fun concept that just works.
Throughout the different environments, you'll have to build different LEGO structures. You'll always get a prompt to do so, and during the story segments, you'll be limited to certain studs and bricks. The limitation is even further extended by the fact that for most builds you'll have to stay within borders (width, depth, and height) for your constructions. After clearing the puzzle, you can go to the sandbox for that object, and then you can customize it further. The latter is fun if you want to spruce up the world around you a bit more.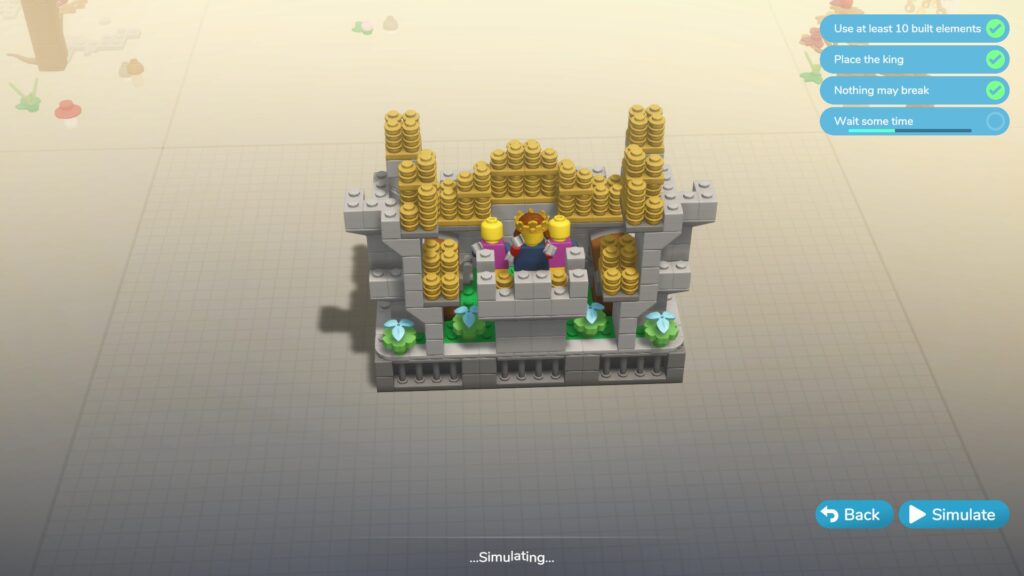 The only thing we somewhat struggled with were the overall controls. We played the game on PC and we actually constantly switched between using a controller and the keyboard and mouse. The controller worked best for moving our character around, as well as moving LEGO pieces up and down. The mouse and keyboard controls often worked better for building-menu actions as well as very quick building. With the mouse, it was easier to place pieces on flat surfaces.
Conclusion
LEGO Bricktales is just one of those adorable adventure games that hits all the right notes. True, at times the game felt a bit limited and basic, but it was extremely relaxing and also just a lot of fun to play through a game without any combat sections. While the controls need a bit of extra polish, we were completely in a zen-like state from start to finish to come up with fun and original builds. If you're into LEGO and want to play something that's accessible to everyone, then this is a no-brainer.