Made In Asia 2014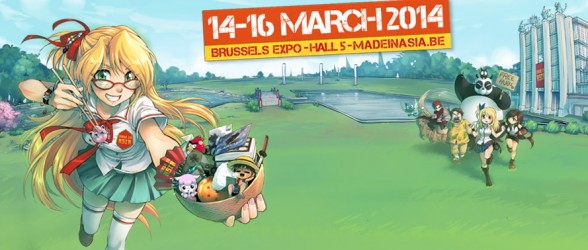 The first big convention of the year has taken place on the 14th, 15th and 16th of March. Made In Asia was held in Brussels Expo and oh boy, were there a lot of people. Even more, most of them were cosplayers. Let us take you on a magical ride through the wonders of this event.
Made In Asia was quite popular, if you looked at the waiting line. The organisation reserved the main hall and a smaller one for the event. The biggest area was filled with a diversity of stands, the smaller one was held especially for games.
The main area had several shops and some of them carried the same goods, though you never seemed to get bored and get an 'oh no, not another stand with this crap' feeling. A small thing that would make the organisation even better, was that the shops that sell the same items would've been categorized par group. This would make it a lot easier to browse the wares, as you could just go to the specific spots you like.
Next to the shops, there were several stands where you could experience the art of calligraphy, drawing, jewel crafting, and so on. This was really nice and looked very professional. This wasn't the only big aspect that was aspect. Made In Asia invited several famous Japanese illustrators. Although there was a long waiting line, this was a great opportunity for the fans out there.
The game area had several game-related shops as well, but contained several other fun stuff as well. You could play card games and some LAN-parties, fighting against your friends. The organisation even installed a big bouncy pad for some jumping 'Last man standing'. Bruises all the way! There were arcade cabinets and even a small arcade hall. Gamers' joy for the win.
The event was great, but it had some downers as well. When you entered the building, you immediately noticed that there were a lot of people and that the lay-out of the stands weren't well organized. There were too many spaces between te shops, making it easy to walk between rows, thus giving you a really hard time to walk around and giving quite some problems and jams. This was also the fact for switching rooms. There wasn't anything foreseen for regulating the 'traffic', which making the passageway quite crowded.
A last small and quite funny anecdote: if you had enough of Made In Asia, you could always visit the event next door for free!