Follow
Genre: Tactical, Third person shooter.
Developer: Kojima Productions
Publisher: Konami
Platform: PC, PS4, PS3, Xbox One, Xbox360
Tested on: PS4, Xbox One
Metal Gear Solid V: The Phantom Pain – Review
Good: Visually stunning
Bad: It's the last Metal Gear game.
User Score
0
(0 votes)
The first Metal Gear game in the series was released on the 7th of July 1987. The last entry: Metal Gear Solid V: The Phantom Pain marks the end of the empire. The series clocks out at 28 years of age. Konami has stated that they are pursuing other more lucrative business models and with the departure of the series creator and director: Hideo Kojima, this might really be the last in the series. A shame because the game really does shine.
Story
The Metal Gear Solid games have a very difficult and convoluted storyline, with character swaps in between games. So if you think you could lessen the lore damage by playing the fourth, well, don't. It will be a waste of your time. You play as 'Big Boss' in this game and the only games in which he has featured as a main "protagonist" is Peace Walker and Snake Eater. You can completely ignore the lore up to this game, Metal Gear Solid V does a pretty good job of making the lore self-contained, there are some nods to previous iterations. Even if you've been living under a rock, you can jump into the game and come out of it more or less in the know on what's going on.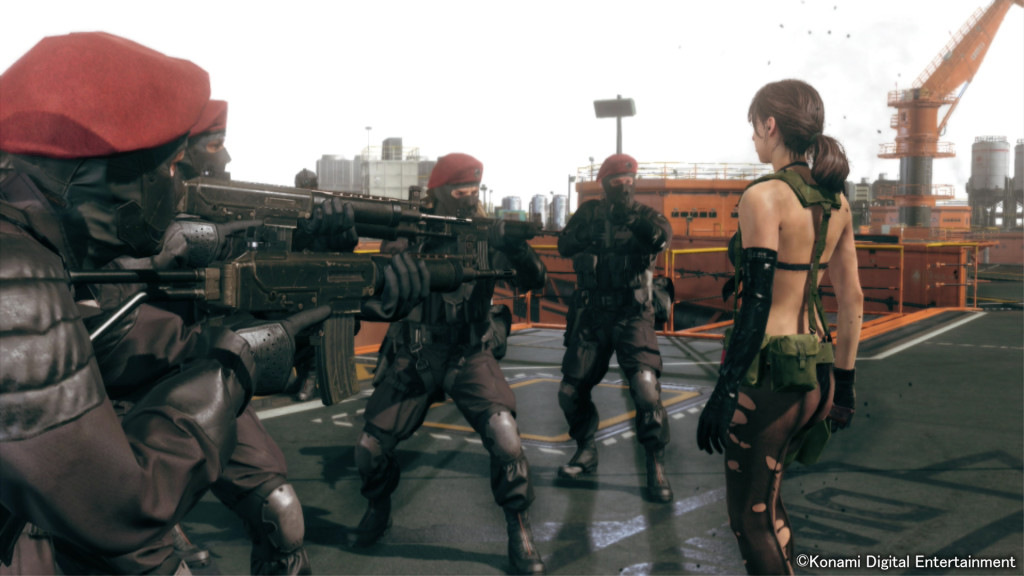 As stated before, you are Big Boss and you were the head of a private military group which were labelled as terrorists. Your base is attacked, your chopper is blown up and you wake up from a coma. A coma which has lasted for nine years. That's where the game starts and the merry joyride of 'WHAT THE FUCK?!' starts. An hour into the game and you'll have seen a giant man on fire who's impervious to bullets, a woman in a straightjacket and a gasmask, spiced up with lots of explosions. The prologue is concluded with you on horseback with a shotgun in your hands shooting at the man on fire who has just descended from the skies on a fiery steed and is chasing you with the intent to kill. All of that, with you still in a dressing gown. From there on out the game slows down the pace and slowly builds. It seems that Cipher is after you. This is another organisation, which has destroyed your previous Mother Base. The man responsible for those attacks is presumably 'Skull Face'. So your quest for vengeance starts. Rebuild your army and show them not to mess with the Big Boss.
Graphics
Fox Engine is what gives Metal Gear Solid V: The Phantom Pain its graphical 'Ooomph'. It really does make the game shine. From the dripping wet suit after a shower to every detail in the game. The only thing you could possibly see as a slight nit to pick is that the game sometimes has some clipping issues when it comes to clothing and weapons. That's it. There are no framerate issues nor screen tearing.
Every detail has been paid attention to. So much attention that even your Diamond Dog has a butthole and your horse can take a dump. The animations are fluid and this is obvious even in the very first hour of the game. You go from dragging your bedridden body over the floor to painfully slowly becoming more and more mobile. It's done so well, you almost feel sorry for the Big Boss as he tries to get around while being humiliated by an unknown guide wearing band aids all over his head.
Sound
When it comes to sound, even there Metal Gear Solid V nails it. The voice acting is really top notch and Kiefer Sutherland was a great choice for the voice of Big Boss. A shame that you don't really hear him speak that much. If you want to hear him talk you'll mostly be listening to audio tapes. The authenticity of what guards are saying can be heard when you speak the actual languages. Russian might not be everyone's strong suit, but when hearing the African guards call in when they had seen me or said: 'Ik verstaan nie', I knew this wasn't just some half assed rushed job at translating.
Music wise the game also has some aces up its sleeves. Some enemy bases have cassette players. The game does take place in 1985, so CD's or MP3's are out of the question, but you can steal these and let your chopper play these from the speakers as it swoops in to lay down suppressive fire on your enemies. If you own the PC version you can even upload songs so you can mow down enemies to your favourite tunes.
Gameplay
Metal Gear Solid V – The Phantom Pain is a third person, action adventure. That is if you really want to label it. The thing is, it really is hard to label, because the game has action, is a shooter, but also has a heavy dose of stealth, there's management involved and it's also a sand box game. The first hour of the game is not really indicative of the overall way the game plays. You are a rebel without a cause. You lost that when your base got blown to smithereens nine years prior. So what do you do when you lose everything you've worked for, including your eye and lower left arm? Well you rebuild your army. How do you do that? You tranquilize enemy soldiers, tie them to balloons and send them to your base.
This covers the Mother Base management, but it also consumes a lot of your time. Often you'll find yourself out in the field looking for better employees and levelling up your crew to upgrade your weapons and tools, which makes it easier to haul in other enemies and their weaponry like turrets and mortars up to jeeps, containers and even a whole tank. You can use these vehicles on your missions and this makes the game so addicting. You'll have to infiltrate a lot of places and the tools you unlock make that more easy to do. When you use CQC or 'Close Quarters Combat' you can grab an enemy and make him spill the beans on his team mates or where the specials in the camp is. If you strike lucky he'll even mark the location of a blueprint.
Tagging enemies is key to making your way in, surveying the perimeter. This is where the day and night cycle come into play, as time goes on, patrols start to change. Control posts are left unattended between shifts, and you can sneak your way into those. The darkness cloaks your entrance, because of the low visibility. If you've chosen the wrong time of day to be sent out, you can always use your 'Phantom Cigar' to speed up time. During this time the tranquilizer rounds effect wears off and enemies might wake up from their unconcious state, so be weary when you use this. 
When you've completed missions you'll earn GMP, which is used for doing research. Weapons, armour for you or your companion, better balloons to fulton enemies or tools with. Even a better bionic arm is possible. You can have one with a radar, a shock function, even an arm which can blow people up. GMP can also be used to restock your ammo mid mission or you can order another load out. Fultonning enemies or their vehicles and stationary weaponry also costs GMP.
If you are wondering if the stealth element goes down the drain when you are spotted, then fear not. When you are spotted a number of things can happen. First is when an enemy sees you, a white arc indicating the direction of enemy. Either he'll come to investigate or he'll just ignore it and continue on his route. If he does come to investigate it's all up to you on how you'll take care of it. If you are too close for him to ignore he'll see you and the famous '!' sign will show over his head and you'll have a brief moment to change the course of events.
Time will slow down and you'll be able to take him out, in which case he won't be able to alert his friends. If you haven't dealt with it by then he'll call over his team and you'll have to choose whether to run and hide and try the stealth method again, or go all out and shoot everything that moves. Don't worry, you can always call in your chopper if you aren't sure you can take them all out on your own. Be aware though that using your iDroid doesn't pause the game. So better to flee the scene for just a moment and give them hell from a slightly larger distance.
Conclusion
Metal Gear Solid V: The Phantom Pain is a gem of a game. With all the hubbub around Konami and Hideo Kojima, no matter what your stance on it is, this game deserves your attention. From the stunning visuals to the grade A voice acting to the more than memorable cut scenes. A word of warning, if you go into this game you can't really just play for five minutes. Hours will disappear in the blink of an eye.