Follow
Genre: RPG, Simulation
Developer: Pathea Games
Publisher: Team17 Digital Ltd
Platform: PC
Tested on: PC
My Time At Portia – Preview
Good: Fun gameplay, nice graphics
Bad: Not all controls are really on point
User Score
10.0
(1 votes)
City-life can sometimes get the best from us, with the stress and pressure of the society. There are games where you can enjoy simple farm life and escape from the busy workload. Harvest Moon, now rebranded to Story of Seasons, has been around for 20 years and had its influence in this genre. My Time At Portia uses certain elements, but also adds some extra content.
The world you're going to dive into was on the verge of destruction. Humanity barely survived and there is need for some good workers that want to help the civilisation to start up again. You're one of those talented people as you inherited the necessary craftmanship from your father. Upon arrival at your new home, it's clear that there is still a lot of work to do, but the city of Portia welcomes you kindly. At the beginning of the game, you can customize your character a bit. As this is a preview build, it could be that not all of the options are available yet but it's a nice feature.
There are several ways you can help your neighbours, but the most used one will be crafting goods at your workshop. To do so, you have to gather materials which can be obtained by scavenging your surroundings. For instance, there are stones and sticks just lying on the ground, while some other crafting goods are a bit harder to obtain. Some schematics require certain relics, which can be found in the abandoned ruins. Others need processed raw materials, implying that you need to have the right tools for the job. This might seem harder than it sounds. Also, you need to deliver the goods on time, when you're running an errand for the Portia Commerce Guild. It'll be quite a challenge to get it all straightened out at the start, but it's rather rewarding to press on. Eventually you will be able to expand your land and even start growing crops, making you a crafting farmer.
Just as in Rune Factory, you are able to fight against several monsters that roam the lands. To do so, you can create a starting weapon to go and battle against a plethora of foes. Using items mean that you need to have them in your quick bar and have it selected. Some of them are way feistier than others and could be quite a challenge, but persistence pays off. Defeating enemies gives you experience, just as performing any other task in the game. Levelling up means that you can invest skill points and improve your gameplay experience. Depending on what you want to do the most, you can put more points into one of the three skill trees.
Everything is coated in a nice comical style, with bright colors and flowy lines that are the most important features. It all looks so nice and harmonious, pushing you forward into this world. Enemies stand out thanks to their shape and tints, while the collectibles are visible as well, thanks to the sparkles. Sound wise, you're also in for a treat. Not only the effects are great and help the immersion but also the music itself is really nicely done.
It's good to see that the developers added some extra info about how some of the mechanics work. The game was tested with a controller and although everything went smoothly, fishing was a disaster. The controls were not optimised for this type of input and the keyboard was used so we could actually catch a fish. Hopefully this issue gets tackled by the team. One other small remark is that sometimes you get the prompt to pick something up, but it's not responding.
Conclusion
My Time At Portia might be a rather suiting title as you might spend a lot of time in this game. The graphics look nice and flowy while the gameplay feels refreshing. Although there are some minor hiccups here and there, we certainly are looking forward to the moment when we can jump into this game again and spend some more time in this city.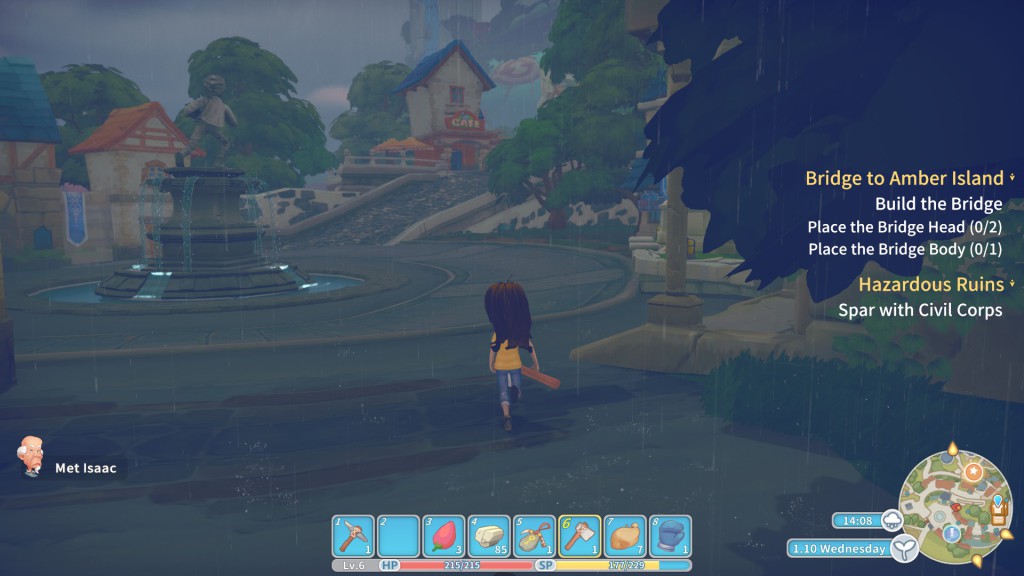 My Time At Portia - Preview

,