Follow
Genre: Drama, romance
Director: Michael Hoffman
Distributor: Relativity
Duration: 118 minutes
The Best of Me (Blu-ray) – Movie Review
Good: A terrific love story.
Bad: Too many details.
User Score
10.0
(2 votes)
The Best of Me, another tear-breaking story from one of the most famous love story writers, Nicolas Sparks. This time he takes us to a place were two former high school lovers meet each other again. Sadly like in every romantic movie some tragedies are coming and sometimes love isn't enough to keep people together, or is it?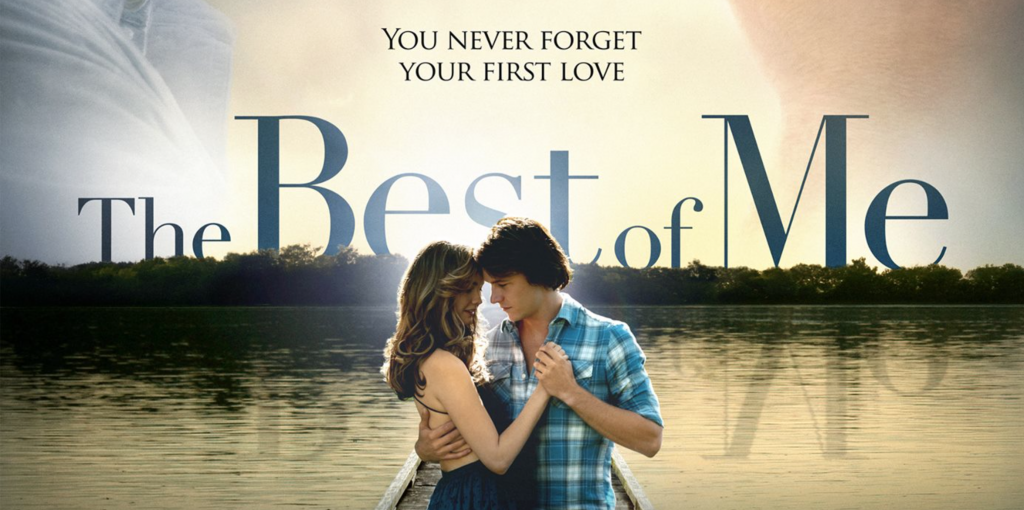 We start off with the scene where an oil rig, the workplace of Dawson Cole, explodes. He tries to rescue the people who were stuck in the fire or those who were hurt by the explosion. In a turn of events another explosion takes place and blows Dawson in the sea were he sees some kind of vision of a woman. After that he wakes up at the hospital and he can almost immediately go home. At home he receives a disturbing Phone call in which he finds out Tuck Hostetler, who is his surrogate father, passed away. So Dawson returns to his home town, were he hasn't been in twenty years, because he wants to fulfill Tuck's last wishes. At the same time, Amanda Collier who is a married housewife also received a Phone call.
Dawson is working on one of Tuck's cars when Amanda arrives and they both feel a bit awkward when they see each other. When she leaves you'll see a flashback from roughly twenty years ago. You watch how they both meet and how desperately Amanda wanted to get to know Dawson. After that you can see how Dawson was punished by Ted, his biological father. Ted deemed Dawson a disgrace to the family. Seeing Dawson was considered as the misfit of the family, he wanted to study hard, get a diploma, to stay away from a criminal environment. After this scene you see how he runs away and that he finds an accommodation in the garage of Tuck.
Back in the present, both Dawson and Amanda see each other again the next day, in the attorney's office, where they go over the details of the funeral. After their meeting with the attorney, it's another flashback, where you see how they start a relationship and how their new found love evolves. Also you'll see how the relation between Tuck and Dawson gets a lot better. Because Tuck was nothing less than a timid and broken widower, it was pretty hard to bond with him. However that wasn't a challenge for the lively and social Amanda who brought herself, Dawson and Tuck together.
After a while the relationship between Dawson and Amanda grew pretty strong. Even though Dawson was a good boy, Amanda's dad didn't want Dawson to be with her, because of his criminal family. Besides that, Ted wants to reclaim his son, therefore he comes to start trouble at Tuck's front porch, while Dawson is at the wedding of his best friend. When Dawson returned, he was struck by a fit of rage when he saw Tuck lying wounded on the floor. He wanted to take action against his "real" dad, so he took off in his truck with Tuck's gun in his hands, in order for him to avenge Tuck.
In the present you'll see how they start to fall in love with each other again and why they broke up 21 years ago.
The movie has a really slow build-up, because they want to give you every detail about Dawson's and Amanda's past. When the story unfolds, little by little you get answers. Everything happens very fast, due to the fact that the movie portrays only a week of both character's lives. Also like in almost every romantic movie the moments of suspense and the outcome are a bit predictable.
Acting performances in The Best of Me are actually pretty good. Michelle Monaghan who played Amanda, brought a believable act of broken housewife who is desperately in love with her former high school boyfriend. Also James Marsden who played Dawson, gave us a pretty good acting performance when he tries to win Amanda over. Besides that, we have the younger Amanda, played by Liana Liberato and the younger Dawson, played by Luke Bracey, who gave us a beautiful story to watch about two high school lovers.
Conclusion
The Best of Me is a pretty decent romantic movie. You'll get loads of drama and sex scenes like in similar movies. On top of that, the movie is also very cheesy and it has some tear-breaking moments like in every other Nicholas Sparks movie. So if you want to have something different this wouldn't be a recommendation but for a romantic movie night this is certainly a decent flick.
The Best of Me (Blu-ray) - Movie Review

,