Follow
Genre: /
Developer: Xiaomi
Publisher: Xiaomi
Platform: Android
Xiaomi Mi Band 3 – Hardware Review
Good: Low cost, lightweight
Bad: Not accurate enough to track workouts
User Score
8.5
(4 votes)
The Chinese brand Xiaomi is quite a popular brand on the Asian market. Recently, it also made its appearance on the Benelux market, trying to gain popularity in Europe as well. We had the opportunity to test their Mi Band 3, a fitness tracker with a fairly attractive price tag.
Design
The Mi Band 3 looks quite simple. It has a black silicone strap, that smoothly encircles the device itself, so that it all looks quite streamlined. If you want something more bold, there are other straps available,  so you can choose whichever you want. For the display of the Mi Band 3 you have a few options to choose designwise, but all of them are mostly functional and simple.
Comfort
The strap of the Mi Band 3 sits very comfortably around your arm, and as the device is quite light, you won't feel it sitting on your wrist in your day to day activities. The touchscreen is fairly responsive and easy to use. The only thing that bothered us while using the device, is that when you're out in the sun, it's nearly impossible  to read the time, or see your activity progress, due to the light being too bright.
One big advantage to the Mi Band 3 is that it has a very long battery span. Even when using it actively to track activities on a regular basis, the Mi Band only needs to be charged every three weeks, more or less. When you want to charge it, you simply take the device itself out of the strap, and attach it to a charger or your laptop, with the charging cable that came with the device.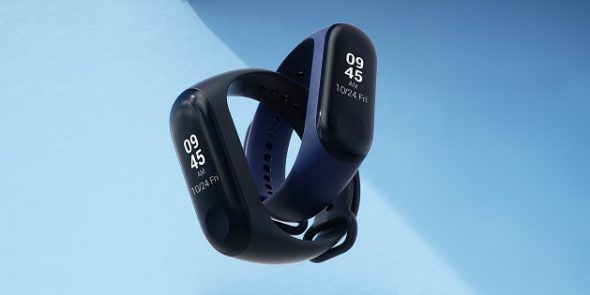 Specs
Waterproof up to 50 meters
Weight: 20 grams
Tracker measurements: 17.9mm x 46.9mm x 12mm
Battery life up to 20 days
Notifications from Whatsapp, Facebook, Messenger, …
Overview
The Mi Band 3 is a simple device to use, with a touchscreen to scroll through the different functionalities. The device will, besides telling you  the time and counting your steps, also measure your heartrate, tell you the weather forecast, and show notifications. If you use the device in combination with the Mi Fit app on your phone, it is actually quite interesting. When you connect the two through Bluetooth, all data will be in the app, even including your sleep data. It's fun to see how the app even encourages you to go to sleep earlier, or walk more.
Overall, the Mi Band 3 is a good fitness tracker. As you have to give your measurements in the app, we can imagine it is quite precise in counting your steps. However, if you want to use this device as a sport watch, we suggest you go look elsewhere. It is definitely possible to track your sports activities with this device, yet we found it not to be very accurate when not using the app.
You can start an activity by tapping the 'exercise' menu on the device, but as the device itself doesn't have any built in GPS system, the distance it measures is far from precise. We took it out for a run, and had quite a large difference between the actual distance run, and  the distance shown on the band. A simple way to make the data more accurate, is to log your workout in the app, rather than on your band. This way, the band will still keep track, but you have the GPS tracker from your phone making the data much more accurate. This means that you will have to have your phone with you when exercising, so we don't find the band to have much of an advantage in that department.
Conclusion
The Mi Band 3 is a good activity tracker for its price. It will definitely give you a good idea of the movement you get on a day to day basis. It has some fun extra functionalities, such as a weather forecast and a sleep tracker, and in combination with the app, you can keep track of your progress as well. If you really want to track your sports activities with it, you will be disappointed though. For that purpose, we suggest you look for another device. We must say though, that you will get your money's worth if you're just looking for a simple activity tracker.
Xiaomi Mi Band 3 - Hardware Review

,