Follow
Genre: Animation
Director: Mark Baker, Neville Astley
Distributor: eOne
Duration: 5 minutes (per episode)
Peppa Pig: Bubbels (DVD) – Series Review
Good: Simplicity, educative, broad variety of themes
Bad: Some animations, not all character models are a success
User Score
6.8
(6 votes)
There's enough material for the youngest kids to watch these days but unfortunately, there's also a lot of trash on the television. If you want your children to grow up with some decent programs which also teach them a thing or two, then Pegga Pig is certainly a show fit for the youngest of children.
Peppa Pig is a sweet, likeable character who lives together with her mom and dad and little brother George. Every episode, Peppa has something new to show the viewers ranging from making bubbles with soap suds or caring for a talkative parrot. Peppa Pig is a highly flexible series and brings up all kinds of themes and problems which can be understood by very young children. One of the most important things about this series and something that really puts it on top of the list of suitable series for children is that it really teaches its viewers some basic concepts. In one episode, Peppa and her classmates were trying to make as much noise as they could. Nothing overly special you might think, but the thing is that each character is an animal and as they make their respective sound (the horse neighs while the dog barks) the viewer learns about the sound certain animals produce without making it boring.
Each episode in Peppa Pig: Bubbles is about 5 minutes long which means all stories are very compact but nonetheless, the series succeeds in bringing a lot of variation in events. The small stories are not always about Peppa herself but sometimes we see more of little brother George or a new kid in the class. As they are all short stories, it's almost impossible to become bored by an episode as before you know it, another one is playing already. For toddlers who tend to lose concentration rather quickly, this is the perfect solution.
The pace throughout the 10 (+2 bonus) episodes is steady with always some kind of small buildup to the actual clue of the story. The beauty of Peppa Pig lies in its simplicity. The series doesn't bombard you with a hundred and one things at once, but makes sure the essential message gets received by the audience. If we look at the preferable age of the viewers Peppa Pig aims at, that's certainly the right way to handle it.
There are some minor letdowns when watching Peppa Pig although kids will probably not worry too much about them. First of all, some drawn characters aren't really a success. While the elephant and the pig family look pretty neat, the zebra's model is downright strange. It seemed like the black and white striped fur was put on the animals without great care and like so, the zebra's faces looked more like a pedestrian crossing than something what could be an animal. Furthermore, the voice acting in the Dutch version we received proved to be very bad compared to the English version. Instead of creating a likeable, friendly environment, the voices often spoiled a lot of the fun and made some scenes dreadful to experience. The English voiceovers are definitely the way to go but of course, you can't just teach your kid English if it doesn't know the language.
Some animations in Peppa Pig are also not really praiseworthy. George, Peppa's little brother for example, tends to cry a lot and instead of tears falling to the ground, they do everything but that. It's not really realistic that way but as this is a series for the absolute youngest of children, the animations are not that big of a deal. Another small remark I have about the series is the repeated introductions in the beginning of each and every episode. Okay, on television, this makes sense as there's no way to know if viewers have already met the family Pig but for a DVD collection, it's quite annoying to see that exact introduction over and over again. Even children will remember the four main characters after a while.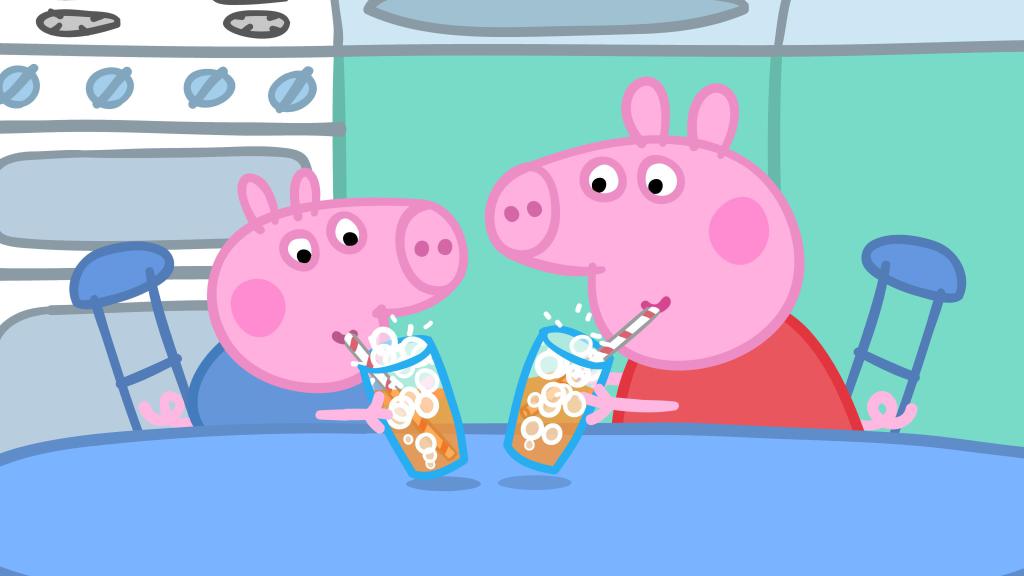 Conclusion
Peppa Pig: Bubbles is a nice collection of varied episodes and will keep your kids entertained in the afternoon. The best thing about the television show is not only the diverse amount of themes but the fact that each and every episode teaches something valuable to the viewers. There are a few drawbacks however like some animations being subpar and some characters having a weird drawn design. Overall though, Peppa Pig: Bubbles is certainly one of the better children shows out there.
Peppa Pig: Bubbels (DVD) - Series Review

,