Follow
Genre: /
Developer: Sandberg
Publisher: Sandberg
Platform: PC
Sandberg RageStorm Mechanical Gaming Keypad – Hardware Review
Good: Designs, Functions, Wrist-wrest
Bad: Not all keycaps fit
User Score
8.4
(5 votes)
Sandberg recently upgraded their library of existing eSports products with a handful of new items. We recently took a look at the Savage 7.1 headset, which proved to be a great asset to your gaming setup, albeit one with a rather unconventional appearance. Sandberg also added a USB Hub Bungee and a new mouse to their collection, as well as a mechanical gaming keypad. We'll have a look at the latter, and see how this tiny keyboard performs in the heat of battle. Is this item truly a RageStorm or its bark worse than its bite?
Design
For a keypad, the design is actually quite peculiar. The top part of the device looks like Sandberg took a good-looking mechanical keyboard and cut it in half. You'll have a small keyboard with 27 keys, that looks like the left half of a normal keyboard. You'll have the same key assignments as a normal QWERTY layout, which is an uncommon part of this design. Many keypads opt for unassigned keys or have no markings on the actual keys. This isn't a problem, but it's a special design choice (which we like). The keys are elevated, which is a common choice for many gaming keyboards nowadays. Each key also has proper LED-lighting, which is also very nice for a keypad.
The bottom part of the keypad has an impressive looking wrist-rest, which we'll properly discuss in the comfort section. The wrist-rest is properly designed for the keypad and it's certainly a plus that it's added.
Comfort
The comfort level of the RageStorm is actually quite impressive. We'll begin with the negative, namely the fact that the device lacks risers, which might be a turn-off for certain enthusiasts. That being said, many keypads don't have risers, and the position of your hand (and palm) will be properly adjusted thanks to the great wrist-rest that has been added by Sandberg. You'll have rubber padding that grants proper grip and a comfortable softness that elevates your gaming experience.
Cleaning the device is also fairly simple thanks to the elevated keys. You can also remove the keycaps, which is certainly an advantage over a normal membrane keypad. That being said, the original keycaps have a proper grip, also when replacing them, but if you're thinking of placing custom keycaps, be sure to check them out beforehand, as some keycaps don't grip properly, making them somewhat loose. The rubberized padding shows stains and smudges, but it's also easy to clean with a (wet) cloth.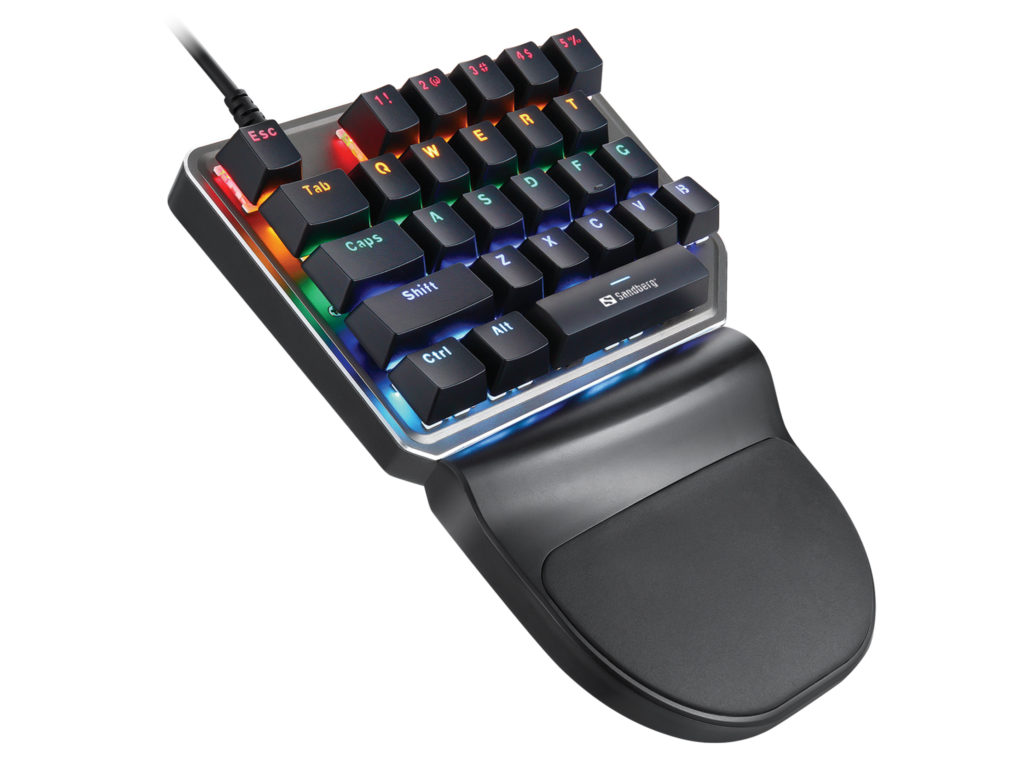 Specs
One-hand control
Outemu switches (blue)
Wrist-rest
27 keys, double injection keycaps
Overview
Sandberg's RageStorm is a plug and play device, which means that your PC will immediately recognize the device. After that, it's smooth sailing and you'll be able to use the incorporated functions. The device does have different lighting settings, which can be switched by pressing Shift and Esc simultaneously. The device has five different lighting settings, but we noticed it doesn't always switch properly when pressing both buttons. Sometimes you'll have to press twice to actually switch. This is only a minor inconvenience and can also be due to our clumsiness or poor timing.
The FireStorm allows for macro recording, which is actually a pretty advanced function for a keypad. Nonetheless, you're able to record three macros and use them when needed. This all depends on what you want to use for which game.
As this is a mechanical keypad, you'll have mechanical switches. Sandberg opts for the blue Outemu switches, which give a distinct clicking noise. The response time of these switches is fairly good and allows for competitive gaming. These switches are considered to be somewhat cheaper than Cherry switches, but they provide the same quality when gaming. That being said, it's always guessing how long mechanical switches last, as only the Cherry switches seem to have a guaranteed longevity. Nonetheless, we have tried out Sandberg mechanical keyboards in the past that had the same switches and we encountered no issues over the years we've been trying out their assortment of products.
Conclusion
Sandberg's RageStorm Mechanical Gaming Keypad might not have the catchiest name when written out in full, but it is truly a great companion if you're used to playing with a keypad. The proper LED-lighting, the mechanical switches, the elevated keys, and the wrist-wrest make for a professional and comfortable gaming companion. While buying a mechanical version might set you back a bit more than other cheaper alternatives on the market, opting for Sandberg's device is a sound investment. If you're looking for a great addition to your gaming setup, we can recommend the RageStorm.
Sandberg RageStorm Mechanical Gaming Keypad - Hardware Review

,