Follow
Genre: Interactive 'Visual Novel', Lewdness simulator
Developer: HONEY∞PARADE GAMES
Publisher: Marvelous Entertainment
Platform: Switch
Tested on: Switch
Senran Kagura Reflexions – Review
Good: Visuals, Idea, Diorama options
Bad: Lack of content and characters, Poor writing for a so-called visual novel
User Score
5.5
(2 votes)
We've had many different encounters with the Senran Kagura universe before, ranging from brawlers that are much akin to the Dynasty Warriors franchise, to third person water pistol shooters, and even a cooking game has been released a while ago. This time however, we're dealing with a game that's exclusively available for the Nintendo Switch and it involves only one of the series' characters, namely Asuka. The game will solely revolve around reflexology with your digital 'waifu' Asuka, allowing you to get to know her fantasies. This all happens while being able to fondle her under the guise of providing her with healthy massages. It was clear that this title would be pure fan service, and even us big boys couldn't resist the premise of such a title.
Story
The game pretty much has a nonsensical story where you show up out of the blue to spend time with Asuka. Of course spending time in this scenario means practising your massage skills on her hands, which then causes her to dream up scenarios of you further massaging her in skimpy or special outfits. It's clear that this game is pure fan service, which isn't necessarily a bad thing for fans of the series, or the character, but it's just a bit silly as to how the story is portrayed or even constructed. If you're looking for a deep storyline, or actually getting to know the characters, you will be left wanting more, or will simply be disappointed by the actual lack of story content.
Graphics
Reflexions is by all means a cute game with a very teasing nature. You'll be treated to a decent character model of Asuka who you can place in various different poses, let her try out different outfits and add some accessories to the mix. Overall the game has a decent dress-up portion as well as a diorama mode which allows you to take some cute and/or sexy snapshots. Other than the decent character model, there isn't that much to view in the game, as all the different locations have static backgrounds, which look nice but feel a bit lacklustre compared to the rest of the game. It would have been nice to have more characters in the game, interactable backgrounds, a few more costume choices at the start or simply more content to explore from a visual point of view.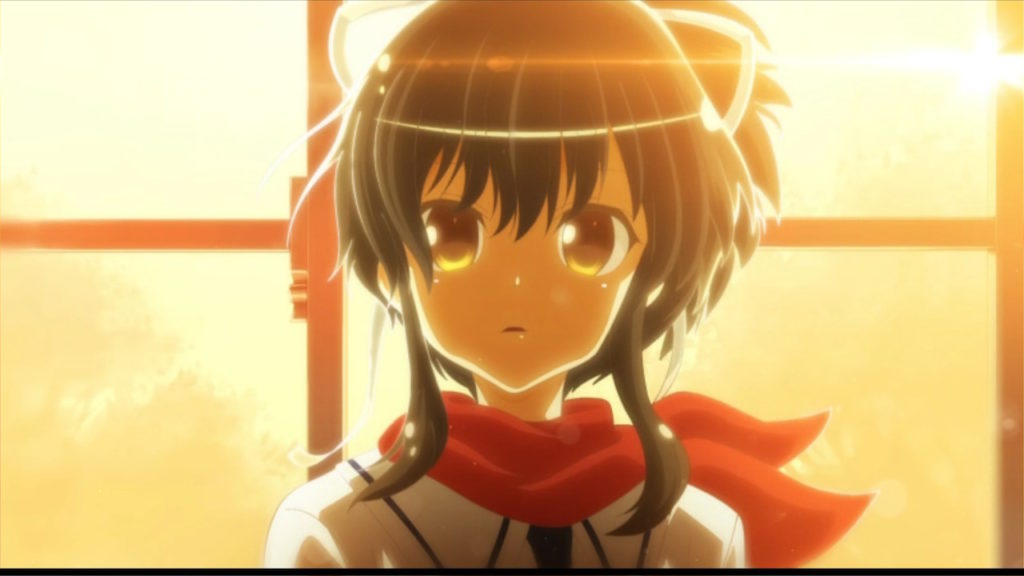 Sound
The music in the game is okay-ish but it never truly stands out as you'll be gazing deeply into Asuka's eyes, or lower body parts, all while she is talking to you in her native language, Japanese. The voicing is done in a decent fashion, even though the lines and different scenarios are rather limited. Again it would have been nice to have more talking options, or more voices to choose from if the creators embedded more Senran Kagura characters into the game.
Gameplay
Senran Kagura Reflexions' developers describe the game as an interactive visual novel, but in reality it's more of a 'waifu' simulator, without actual in-depth gameplay mechanics. If you follow the main mode, you'll be able to have short one-sided conversations with Asuka, all while holding her by the hands, and finding the right spot on one of her hands in order to unlock a dream sequence in which you are able to touch/fondle her, which then in turn unlocks a massage sequence. The massage sequences can all be played with normal controls or motions controls, and the further you progress the more tools you'll have at your disposal.
When clearing the main mode of the game for the first time, which will take you roughly half an hour, you'll be able to try the mode again, but this time you'll get hints on which sequences you'll unlock. This allows you to play the missing pieces of the puzzle, getting all possible content from the game. Overall the game doesn't have that much replay value, but it's fun to unlock new costumes, items and so on in order to complement the dress-up mode, as well as the diorama mode. These two pretty much speak for themselves, where one is solely based on costumes and accessories, the other is based on poses and more lewd stuff.
You won't be able to play the game with a Pro Controller, because the game only supports playthroughs with the Joy-Con controllers. This has to do with the fact that the game tries to let you play with the motion controls, which proves to be a fun extra for a game such as this. Sadly, the motion controls aren't always that clear and don't always respond how you'd  like them to.
While this Senran Kagura game comes at a low cost, its biggest gripe is the lack of content, as you can easily unlock most of the game's content in slightly more than an hour, and that's if you're unlucky and always unlock the same dream sequence during your first playthrough. This game is a fun intermezzo when downloading a bigger game, or when you're a big fan of everything that has to do with Senran Kagura.
Conclusion
Senran Kagura Reflexions is a fun 'simulator' where you can have a few fun moments with one of Senran Kagura's key characters. While the content is extremely low, you'll be able to have some fun with the main mode, the dress-up options and of course letting Asuka pose for you in the diorama mode. With a low price tag this is something worth considering for fans of the franchise, or those who love dress-up and lewd games, but if you want something action-packed like the rest of the series, you'll be sorely disappointed.
Senran Kagura Reflexions - Review

,