Follow
Genre: Sports, Strategy, Management
Developer: Rebound CG
Publisher: Rebound CG
Platform: PC, iPhone/iPad/Android
Tested on: PC
Tennis Manager 2021 – Preview
Good: Clear UI, Variety of management options, 3D match simulations
Bad: Experience lacks soul, Choices do not seem to matter, No personal contact with the players
User Score
7.0
(1 votes)
The Wimbledon 2021's finals were played recently, crowning Ashleigh Barty and Novak Djokovic in their respective ladies and gentlemen's single categories. Djokovic's game against Matteo Berrettini was especially heated, as the Serbian tennis player was fighting to win his 20th Grand Slam title, a feat only Roger Federer and Rafael Nadal could boast about before. So, what better way to celebrate the occasion than to jump into Tennis Manager 2021, now available in Early Access on Steam.
In Tennis Manager 2021 you play as the manager (and coach) of a prestigious tennis academy, and it is your job to choose your players and to train them to the best of their abilities so that they are prepared to compete in official tournaments. It sounds simple, but it can turn complicated fast, as the game presents you with detailed information on all kinds of important aspects. You will be informed about the ranking statistics of your players and their strengths and weaknesses on the field, but also on their sponsors, contracts, and other bureaucratic nick-nacks. You will also be the one responsible for the finances and infrastructure development of the academy itself.
This immersive experience as a tennis manager is completed by watching the actual matches of your players unfold, and being able to give them pep talks before and after important match-ups, or preparing them for interviews with the media. As a sports management game goes, there is hardly any element missing.
Overall, Tennis Manager 2021's fidelity to reality is indeed commendable. Not only is everything you do framed by the e-mail set-up, which feels like you're actually doing work at the office, but here you will also find every staple of the world of tennis: strategies, stances, shots, a multitude of tournaments to compete in, and even the names of certain real players on the rankings (disguised behind funny puns).
The UI looks crisp and easy to navigate, even if the search options can be temperamental at times, and there is more than enough content for a lot of hours of gameplay in its current state. The 3D matches simulated by AI are one of the high points of the game, resembling the feeling you get from watching a real game of tennis. The graphics are appealing and accurate enough, and even here there are a lot of different options to influence the game's outcome (building your player's confidence or asking him to change his strategy, for example).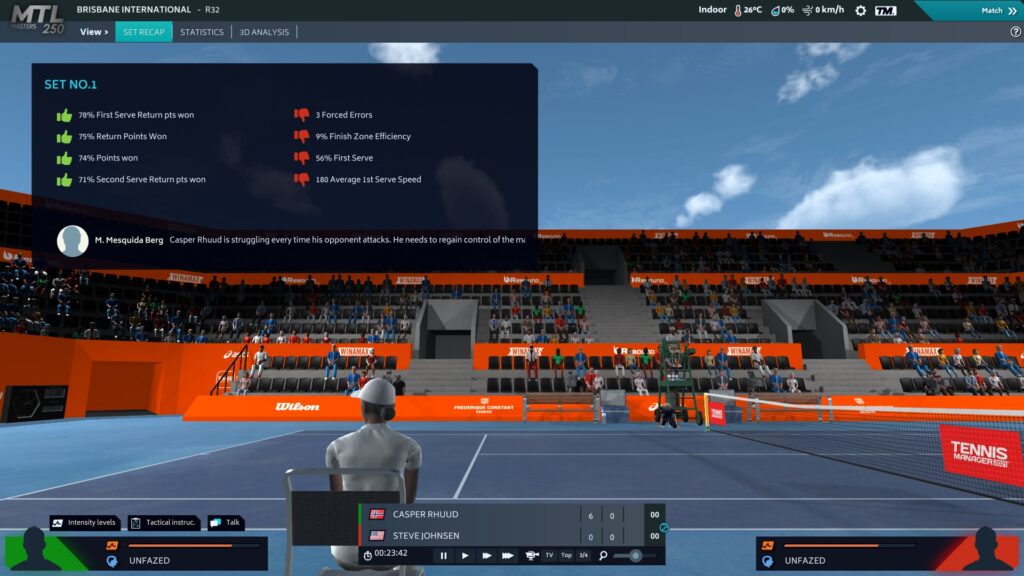 That being said, an important aspect for those who appreciate watching tennis is its sound: from the suspenseful silence of the crowd to the more or less noisy counter-attacks from the players, and that satisfying pong of the ball on the court. Tennis Manager 2021 handles this aspect very well, with a good choice of sounds for the matches. However, we would have liked to see a bit more sound accompanying your actual gameplay during the thick portions of management – even elevator music (with the option to mute) would have been better than the current deadly silence you experience while shifting through your management chores. There is a lot to read at all times and there are no voice lines either, which makes the experience feel dry.
We would also have liked to see an option to skip watching the tournaments entirely. There are fast-forward buttons, but they still force you to sit through the whole match while clicking through the process. This can be frustrating, especially if the outcome of the match is already made clear beforehand.
And this brings us to the core of Tennis Manager 2021: it is undoubtfully a good game, offering a lot of content, but does it feel unique or special in what it allows you to do? Not really. Despite the fact that there are so many choices, you still feel as if what you do might not matter at all. It is unclear if you can let the game go on auto-pilot and the results obtained would be similar. This is helped by the fact that most of the game's options are pre-chosen for you, even if they are not the optimal ones.
So it is hard to pinpoint the feeling that you are the force behind the development of your players, with which your personal contact is also minimal. It is true you schedule their training and know everything there is to know about them in terms of raw data, but there is no moment in the game where you are face to face with them, engaging in a more personal manner. Perhaps this personal aspect is what is missing in the game, which cannot help but feel a bit soulless at the moment, even if it is in a really good state for an Early Access title.
Conclusion
Despite the game's crisp UI and appealing visuals, we found the experience of Tennis Manager 2021 lacking in soul. The current game state is good enough to justify investing in the title while in Early Access, and the developers seem committed to improving the game with a lot of recent patches hitting Steam. Still, it is hard to be more enthusiastic while being stuck behind the wall of in-game e-mails, which will ultimately control the fate of your players. Fortunately, the game has a lot of really nice core features, including its appealing 3D match simulations.
Tennis Manager 2021 - Preview

,