Video Games Live, City Theatre Antwerp, Belgium – Review
User Score
10.0
(5 votes)
Videogame music, tunes that are often so catchy that one simply is unable to forget them. Some are a symbol for one's youth, whilst others are packed with so many emotions that certain important scenes immediately come to mind. What would happen if these great memories would be enhanced by a real live orchestra?
Upon arrival in the cozy city theatre in Antwerp, it was clear that this performance would be personal, warm, qualitative and a highlight for Belgium. Not only was the setting quite correct but also the overall atmosphere that surrounded the entire performance.
As a matter of introduction the concert kicked off with the famous tune from Castlevania, guitar rocking and above all a mighty symphony to support it. Soon after, we learned what this concert would offer us, a qualitative symphony all the way from Hungary and above all, Tommy Tallarico, the man who made all of this possible. His idea of bringing games music with the help of an orchestra was born roughly ten years ago and we are glad that his 'baby' has reached us all the way in Belgium.
Seeing the viewers were able to vote in advance which music should be played during this grand show, it's easy to say that pretty much everyone was able to leave the theatre with a smile on his face. Handling both classic games as well as more recent ones, it became a performance for both young and old, which turned out to be an amazing mix.
Hearing tunes from games from my childhood, even those that I have not played in over a decade made me immediately remember all the occasions that I used to play those titles. Earthworm Jim made me wonder why games like this aren't still being made, whilst Sonic the Hedgehog showed us that after so many years this blue urchin still lives in a fairly strong fashion. Whilst many would say that it is just music that comes from a simple game, it's easy to prove them wrong. I reckon that I was not the only one where emotions often took over and even on occasions the songs caused some watery eyes here and there.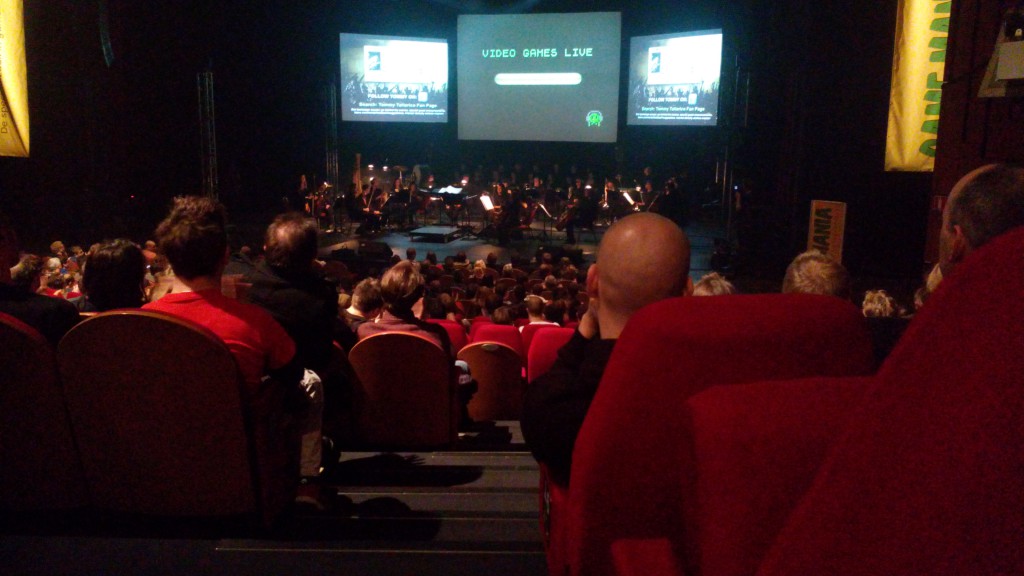 As far as the soundtrack went for the evening, it were songs from games and franchises such as:
Castlevania
Metal Gear Solid
Sonic the Hedgehog
The Legend of Zelda
Silent Hill
Halo
Uncharted
Journey
Shadow of the Colossus
Mass Effect
Earthworm Jim
Portal
(World of) Warcraft
Skyrim
Kingdom Hearts
Final Fantasy VII & VIII
Monkey Island,
Street Fighter II
Chrono Trigger & Chrono Cross
Whilst hearing great music nonstop would be great, it's pleasant that the organizers took their time to provide some pleasant intermezzos in order for people to take a small breather from the emotions that certain songs would provide. Funny clips, fun stories and informative explanations made sure to do such a thing. The visuals proved to be a great enhancement for the music as well.
As mentioned before the location of it all was superb but a cozy location often has it downsides as well. The seats were very thin, even for a short guy like me. This created a slight discomfort but overall it was not as annoying as sitting close to the crewmembers who arranged the lighting and the clips shown on the big screen. Seeing their 'desk' was at the middle of the hall, those around them were often bothered by their quite obnoxious loud talking about which lights had to be turned on, as well as which camera had to function next or which clip had to be shown. A slight discomfort that pulled you back from the magical performance.
It was also fun to see that the organizers aimed for an informal approach, compared to other orchestras. Taking pictures, filming and simply showing how pumped up you were was all allowed, as well as cheered upon. This made sure the event was even more 'loveable' and pleasing.
Conclusion
All in all, Video Games Live proved to be a great event for gamers of all ages, be it casual or hardcore gamers. Emotions could be felt during every note of the songs and these were enhanced by the great looking location as well as the cheerfulness of the crowd and the performers. One could only hope to see Video Games Live again during the coming years.
Video Games Live, City Theatre Antwerp, Belgium - Review

,