Follow
Genre: Casual, Indie, Strategy
Developer: Skinny Jean Death Studios , Porcelain Labs
Publisher: Forever Humble PDX
Platform: PC
Tested on: PC
Flobe – Preview
Good: Music
Bad: Keyboard controls
User Score
4.0
(2 votes)
Simplistic puzzle games have been gaining ground, ever since the smartphone has become a standard in the mobile phone industry. While Flobe looks like a game that belongs on such mobile platforms, it made its way to Steam nonetheless. Catch colored creatures and avoid the wrongly colored ones. An offset that sounds simple enough, but reality proves to be quite different. Even though the game comes at an awfully cheap price, Flobe still finds itself in an Early Access state. That being said, without further ado, here's our opinion on this early build of the game.
Flobe is a game without any story value which, considering the type of game it is, comes as no surprise. Basically, you control a stick, which you will have to move around, making sure to catch the little creatures that match the  color of your stick. If you hit other colored creatures it's game over.
The graphics of Flobe look rather basic. The backgrounds are always in one color scheme, with a few frilling and detailing to spice things up just a little bit. Other than that, there are some meters on the sides that collect all your captured creatures, and at the bottom you can see your score, and that's pretty much it.
Unlike the graphics, the music is a very interesting choice. With a game like this, where your sole objective is to break your high score, some easy-going music to the background is what you would probably expect most. To a certain extent this is also the case with Flobe, but the developers chose to go for some jazzy tunes alongside the more dreamy ones. It's an unusual choice, but nonetheless a very fun one.
The mechanics of this game look quite simple, but they take some getting used to, and do require some skill. You can choose to play either with a controller or with your computer keyboard. To be honest, the controls with the keyboard are really hard to master and are only demotivating, so it's best to plug in your controller. As said before, the mechanics will take some time to master, because you will have to control both ends of the stick, which can make it hard to synchronize your movements sometimes. Moving around, you will have to catch all little creatures that are the same color as your bar. If you catch any other color, you'll have to start again. You'll have to try and catch all blue creatures, as you will be punished for letting one get away. Your bar will get larger, and you'll lose your multiplier, which will cost you points. Also, there will be some rocket-like creatures activated, which are dangerous ones to hit.
Besides the colored creatures and the rocket-like creatures, there are also bombs that you will have to keep an eye on. They are not all that bad though, as you can use them to your own advantage. By moving in front of them, you can stop them, which will trigger them to explode. Nonetheless, you will still have a few seconds time to get to safety, causing the bad colors to explode, in turn clearing the way for you to catch your blue creatures. It's a fun addition that will often prove to be handy, as the screen will get more and more crowded.
To make things even harder, in the higher levels the two ends of your bar will get different colors, which means that you will have to catch two different colored creatures, but always with the right end of your bar. You can switch the colors, but still, it's quite a challenge that will get many killed.
While it's quite clear what you will have to do, it is quite hard to succeed. Catching all blue creatures is hard in itself, let alone with all the obstacles along the way. This can make the game rather dull quickly, as there is not much fun to it then. Nonetheless, if you are a quick learner, the game does provide a proper challenge.
Conclusion
There is nothing more to Flobe than simply trying to do better each time and setting a new high score. While this may sound quite silly, it's actually quite hard to master, certainly if you don't have a controller and just have to rely on your keyboard, as the keyboard controls are just not ideal. If you master the controls quickly, this game can be quite fun, but because it isn't that easy to start with, it's probably a bit of a love or hate thing.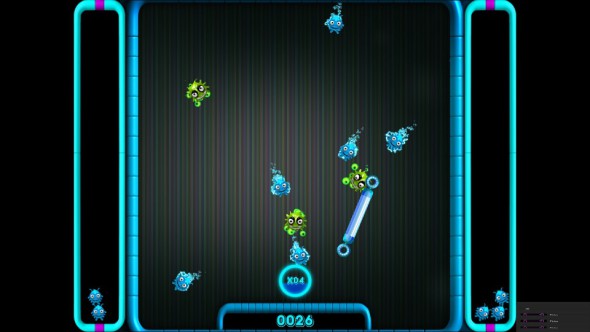 Flobe - Preview

,