Follow
Genre: Story-driven adventure, choice-driven
Developer: Idol Minds, Square Enix
Publisher: Square Enix
Platform: PC, Switch, PS4, PS5, Xbox One, Xbox Series X|S, Google Stadia
Tested on: PC
Life is Strange: True Colors – Review
Good: Once again a great story full of exciting choices
Bad: Steep price, Choices seem limiting sometimes
User Score
5.0
(2 votes)
Life is Strange is a phenomenal series when it comes to story-driven gameplay. The games offer you a great story with characters that feel very much unique, a plot that will always grow on you, and very exciting if not terrifying choices that are yours alone to make. Each sequel seems to be more anticipated than the previous one, making Life is Strange one of the most prominent series in its genre. Let's see how far the series has developed itself with this latest installment and if there's something new to uncover.
Story
Life is Strange is always all about the story. Furthermore, it's about stories involving extraordinary humans with some kind of special power. As an example, in the first game, this power involved messing around with time. Generally, the games don't rush to powers though, but they begin very calmly with the introduction of characters and their everyday issues. In Life is Strange: True Colors this is no different. We get to follow Alex Chen, who reunites with her brother Gabe after eight years. You quickly learn that Alex suffers from a unique skill that seems to be some form of enhanced empathy. This allows Alex to feel the emotions of others, but also hear what certain people think. Obviously, you will use these skills in the game, but for Alex, it's a daily struggle as she often also takes over what people are feeling, which causes her to i.e. get violent.
The story often offers you to take it all in at a pace that you like, giving you endlessly looping cutscenes with music (they only stop once you've had enough and want to move on) or the game simply allows you to move around to explore the details in an area. This includes checking messages on your phone, giving you the option to let the game grow on you, and take in all the small bits of (important!) backstory that you otherwise would have missed. Once you got acquainted with the game and feel relaxed, the game starts doing what Life is Strange does best: Giving you crazy tough moral choices that can have consequences for the rest of the story. When looking at the previous games, the phone mechanic is the only thing that's truly different in this installment. The rest is pretty much the same as the previous games, aside from this one perhaps being a shorter game. As a matter of fact, this is probably the most gruesome fact about True Colors, as it's about half the length of the original Life is Strange. For a price tag of 60 bucks on release, this is quite a big difference and might disappoint longtime fans.
Graphics
The graphics in Life is Strange: True Colors are strong. Not only are the models and the environments nice to look at, but they are also used very well to tell a story. The camera angles are as good as any good movie, once again pointing out this is a story-driven game. Aside from these achievements, the game also uses nice motion-captured performances from actors that make the in-game characters feel real. The only small remark here is that the mouth movements could be slightly better from time to time, but other than that, the entire game breathes out an atmosphere that's quite typical for Life is Strange. It also shows you that life can be beautiful, no matter how many downs accompany the ups.
Sound
The sound design in Life is Strange: True Colors is stellar! Not only is everything rigged up to make it sound like you are standing in multiple corners as a silent observer, but the mixing of the sound lets you listen to exactly what is or isn't important at the moment. You'll notice that subtle differences like these that make games more immersive, and Life is Strange does it very well. There's also a lot of music involved in the game, as part of the story revolves around a record store and band performances, giving you tracks that might or might not sound familiar. On top of that, there's great voice acting that really enhances the story to emotional levels. Altogether it's done exemplary.
Gameplay
In Life of Strange games, you mostly follow one or two characters as the main protagonists. Sometimes you just follow them by watching a cutscene and possibly making choices during that cutscene, other times you can actually walk around and investigate things. This makes the game a story-driven adventure with branching choices. Choices define how the story will continue, much like i.e. Telltale Games such as The Walking Dead series. This offers some replayability if you are not totally happy with the outcome, but most people will probably only play this game once. You can be done with the story in about seven or eight hours, but you can also choose to carefully explore every nook and cranny the game has. The latter allows you to find collectibles that give the story a bit of extra depth and help you get achievements that might interest you if you are a completionist.
While the choices that you can make are more than often intense, it feels like this installment of the game could also do with a bit more to do or to choose from. For a game that's only seven to eight hours long, it's pretty passive in gameplay or the number of choices to be made. Loads of questions give you just two answers to pick, making it feel a little bit flat compared to the generally awesome story. That you can now check your phone aside from your journal is a pretty cool addition, as it gives you an insight into Alex's past situations and her private life, making you feel like somewhat of a peeping Tom. As the game progresses and new things happen, you can read up on more background information this way as well.
That being said, this is still one of those story-driven games that you can thoroughly enjoy because it offers a unique story to tell. It wants to take you along for a ride that changes you once you have arrived at your destination. Aside from the choices lacking every now and then, it's still a great game that will leave you with some thrilling moments and impressive characters.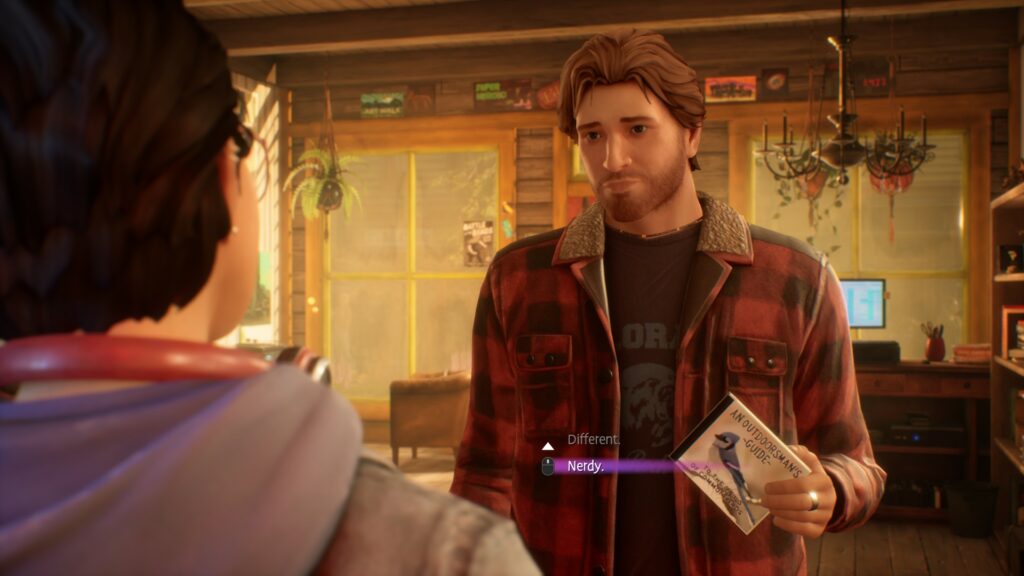 Conclusion
The latest of Life is Strange games gives you, as expected, another story with depth and great moral choices. The graphics and the music are very good and show the craftsmanship of the studio behind the series. The addition of the usage of an in-game phone brings even more depth and background story than usual, and aside from choices that sometimes lack a proper branching narrative, it's still a great game to play.
Life is Strange: True Colors - Review

,