STEINS;GATE reveals character trailer
STEINS;GATE has revealed their first character trailer. STEINS;GATE is an award-winning Visual Novel from MAGES, 5pb and Science Adventure Team.
When teenage scientists discover the ability to send messages to the past, they inadvertently set off a chain of events that alters their future. With an outstanding art design, and a heart-wrenching narrative, STEINS;GATE is a critically-acclaimed visual novel that can be experienced time and time again thanks to its ensemble cast of engaging characters, featuring:
Okabe Rintaro
Eccentric, self proclaimed mad scientist and founder of the 'Future Gadget Lab', a small group of friends who have an ambition of overthrowing the rule of the world.
Mayuri Shiina
Okabe's long-time friend, Mayuri enjoys creating cosplays and works part time at a maid café. She is always cheerful and positive, greeting everyone with a friendly 'tuturu!'
Itaru Hashida
An experienced computer programmer, super-hacker and Otaku, his affection for Faris can often lead him say crude and inappropriate things out loud.
Makise Kurisu
An extremely talented neuroscience researcher at an American University, Kurisu is drawn into Okabe's world because of her scepticism of his experiments.
 Faris Nyannyan
The most popular waitress at the Maid Café 'Mayqueen Nyannyan' and a mean RaiNET player, she is very much the object of Itaru's affection.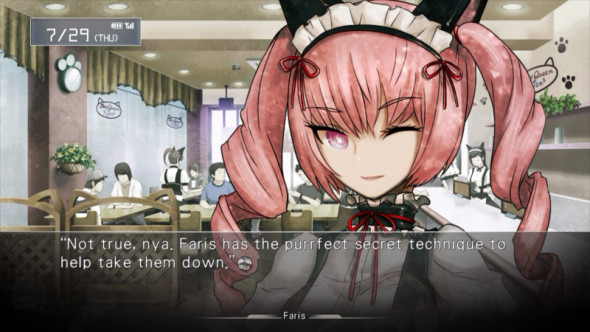 Moeka Kiryu
A mysterious and shy young woman, Moeka rarely speaks, instead preferring to communicate through text messages, even if her friends are in the same room.
Suzuha Amane
Athletic part-time assistant at the workshop belonging to Okabe's Landlord, Suzuha has a keen interest in Okabe's work. She enjoys riding her bicycle.
Luka Urishibara
Shy and feminine, Luka is often mistaken for a girl. As a result he is incredibly self conscious and unsure of his true feelings.
STEINS;GATE will be available for PlayStation 3 and PlayStation Vita and will be released in Europ on the 5th of June 2015