Story details revealed for Aurora's Journey and the Pitiful Lackey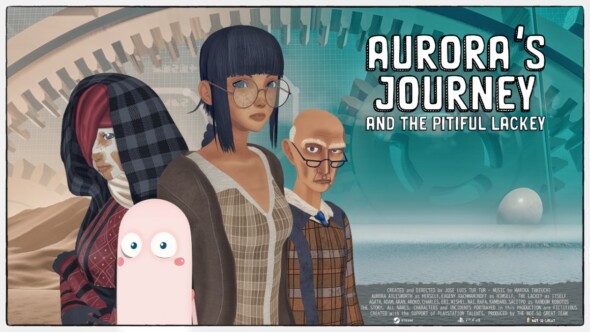 Today, Sony Interactive Entertainment España, Gammera Nest, and The Not So Great Team revealed new story details about the upcoming Aurora's Journey and the Pitiful Lackey. The side-scrolling adventure title is being released with the support of the Playstation Talents program and is headed to PS4 and Steam in the near future. In Aurora's Journey and the Pitiful Lackey, players are taken back to an alternate version of 1908, where an ancient comet crashes into Earth… except it's not actually a comet but an alien ship, torn into pieces! The alien technology from that crash led to the invention of robots, peaceful and clunky beings. One of these robots is the titular Lackey, one of protagonist Aurora's oldest companions. This unlikely duo ventures out on a quest to find Aurora's missing father after she receives his diary in the mail.
Aiding our heroes is professor Rachmaninoff, a mad scientist that has raised Aurora after her father's disappearance. He's also the inventor of the Copernicus, an oversized and upgradable gun that will prove to be invaluable against the robotos, a horde of evil automatons that seem to feel a strange attraction for attacking Aurora.
KEY FEATURES
Travel around the world with Aurora and Lackey in a side scroller adventure with shooter and platforming elements

Investigate the whereabouts of Aurora's father by talking to friends and strangers and unravel the mystery of Eureka

Use devices and gadgets designed by Aurora's friend, professor Rachmaninoff, that will help her along the way while facing countless enemies and other dangers
No release date for Aurora's Journey and the Pitiful Lackey has been announced yet but the game is already available to wishlist on PS4 and Steam.